Hi ladies!
I have an oily-combination skin type and to control that oil, I definitely need a good toner. While purchasing any toner, I specifically look for the ones that mattify my skin or tightens the pores. Focussing on the pores is very crucial since a lot of dirt and oil gets deposited in these pores that lead to greasy skin. You won't find many toners that control oil easily in the market. A friend of mine is an Avon reseller and she told me about the Nutra Effects collection of this brand. This collection is very famous since it has a lot of natural ingredients without any harmful chemicals. Most of us avoid using strong toners since they cause unwanted redness because of the high amount of astringent content in them. However, this one promises to cause no skin irritation. Read on to find my experience with this particular range from Avon.
Gives skin a matte look, without leaving skin feeling dry or tight. Shake to activate. Ideal for combination and oily skin.
The Nutra Effects Cleansing Collection has been formulated with Active Seed Complex with cleansing berries to give you purified, refreshed skin.
The Cleansing collection contains nature's own cleansing agent to gently, yet thoroughly, remove dirt, oil and makeup. It is soap-free, so won't dry the skin.
Cleansing berries, native to Asia, have been used for centuries as a mild, multi-purpose cleanser.


Benefit: Purified, refreshed skin

Active Seed Complex with cleansing berries

Gently, yet thoroughly, removes dirt, oil and makeup.

Soap-free

Skin type: All skin types
Ingredients:
Active complex based on chia seeds and mattifying ingredients: Mineral ingredients absorb sebum upon skin contact. They restore skin's matte look.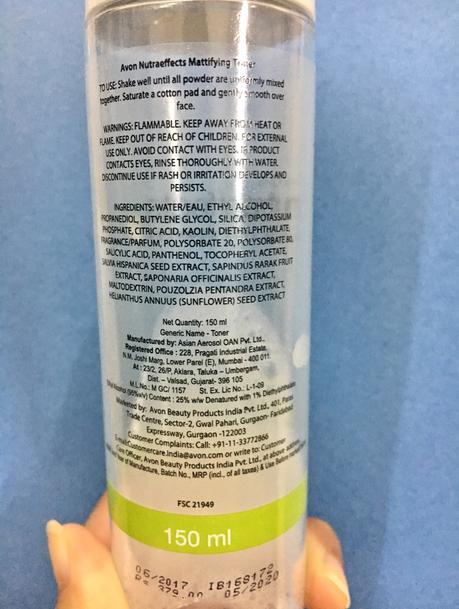 Price: INR 371 for 50ml.
My experience with Avon Nutra Effects Mattifying Toner
Packaging:
The product comes in a long plastic cylindrical bottle which is transparent. It has a huge screw cap, white in color that seals the product well preventing any leakage. The bottle has a label on it, that gives all the necessary information about the product. Overall the packaging is quite sturdy and travel-friendly.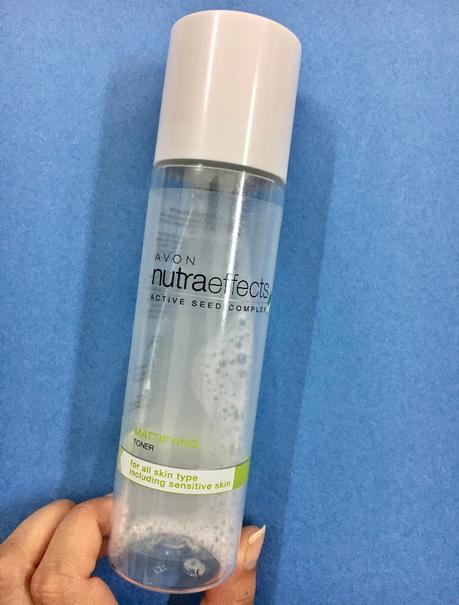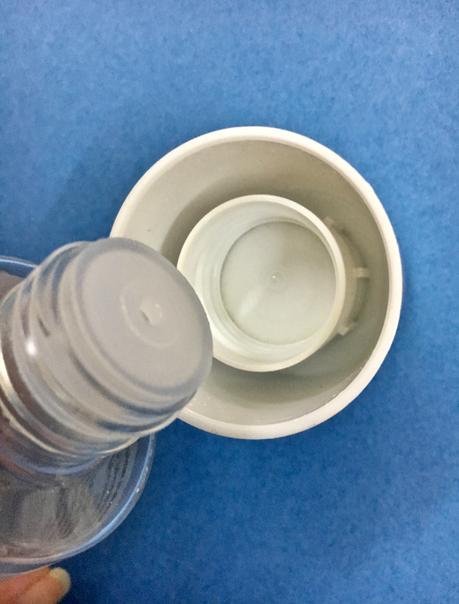 Texture and Consistency:
It is like a clear solution but you will find a lot of white residue at the bottom if the bottle is left untouched. Before using, shake the bottle well and you will see a cloudy solution. Sounds a lot like chemistry? :p The residue or I can say the white powdery substance is basically powdered berry seeds. So I never forget to shake the product well before using it.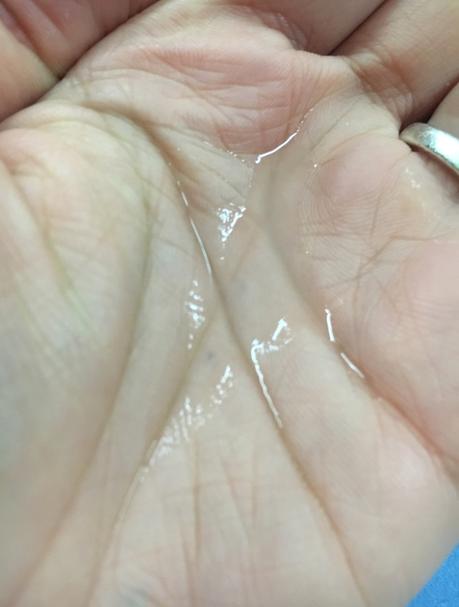 Fragrance of Avon Nutra Effects Mattifying Toner
It has a strong fragrance, a lot like dried seeds. I am not a big fan of this smell but it works well since it lasts for about a few minutes. Comparing this smell, with the regular astringent toners, then this one is a lot better!
Effectiveness of Avon Nutra Effects Mattifying Toner
I use a cotton pad and dab it over my most oily-prone areas, especially my T-zone. It does not give my skin any tingling sensation because of the no-astringent formula. It keeps my skin non-greasy and oil free for the next 7-8 hours, which is a decent lasting time for any toner at this range.
It helped in reducing my pore sizes to some extent. The paraben-free formula prevents any sort fo unwanted acne or pimples. It also has a good hydration formula that does not make my skin dry.
This wonderful toner effectively removes dirt and even makeup, making my skin look healthier and oil free.
Pros of Avon Nutra Effects Mattifying Toner
Removes excess dirt and oil from pores.
Mattifies the skin for long a period of time.
No redness or acne observed.
Does not make my skin dry.
Paraben free.
Leak-proof packaging.
Travel-friendly.
Cons of Avon Nutra Effects Mattifying Toner
Not so amazing fragrance!
Would I recommend Avon Nutra Effects Mattifying Toner
Yes I highly recommend this fabulous toner from Avon. All the people who are worried about the irritation caused by toners can give this product a try!
Final Verdict
Sensitive skin people like me, die to look forward to a gentle toner. Avon has done the job well, the range that they have launched consist of skin-friendly ingredients without any harsh chemicals like paraben. It controls the sebum well and gives a matte look face for a considerable amount of time.
4.0
Also Read
16 Best Affordable Toners In India Under Rs.500| Alcohol-free
L'Oreal Pure Clay Mask Exfoliate and Refine Pores Review| Shrinks the pores
Olay Moisturizing Cream Review| Hydrating & Gives smooth texture
Mamaearth Happy Heads Hair Shampoo Review
13 Affordable face wash In India under Rs.250 and under Rs.500
Homemade Besan face pack| For bright skin, tan and scar removal
Burt's Bees tinted lip balm hibiscus Review
7 Best Face & Body Scrub For This Summer| Get soft and glowing skin
Reviewer: Rhea Dadra       Editor: Khadija
That is it guys. I hope this post helped you in some way or the other.
If you liked this then please follow and subscribe me and stay tuned for more such posts.
If you have any queries feel free to ask in the comment section below or DM me on Instagram.
Lots of Love
Khadija 
Let's be friends and get social! You can find me on Instagram| Twitter| Facebook