Avon Blendable Eyeshadow Duo Claims?
Silky Smooth powder eye shadow that glides and blends easily on lids for marvelous eye enhancing color. Dermatologist-tested. Hypoallergenic. Made especially for Asian Women.

Price: 299 INR for 1.7 g. Currently in offer for 199 INR
Life Span: 3 years
My Expectations: I didn't expect much in terms of color but expected the quality to be smooth soft and easy to blend. I must say this eyeshadow was not only blendable but AVON didn't disappoint me even in the pigmentation factor. I am satisfied with this duo. Read on for full details...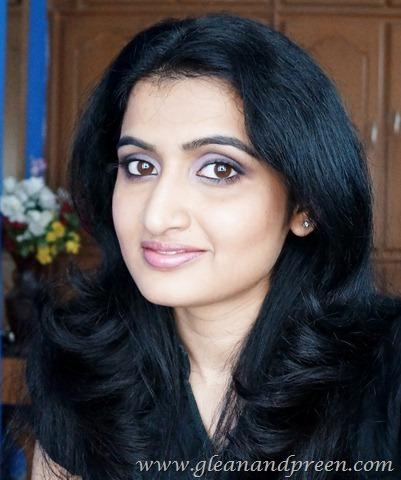 Look & Feel
Package: Comes in a cute vibrant purple plastic case with transparent lid. It's sturdy and sleek to be carried in wallets. I can say it's a pretty convenient  colorful package.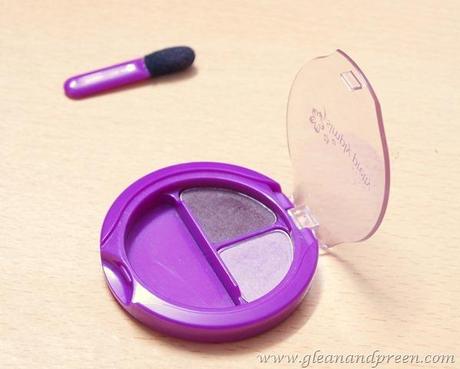 Applicator: The applicator given is not smooth and soft but convenient enough for quick looks and touch-ups
Shade: Charm. This Duo has 2 shades: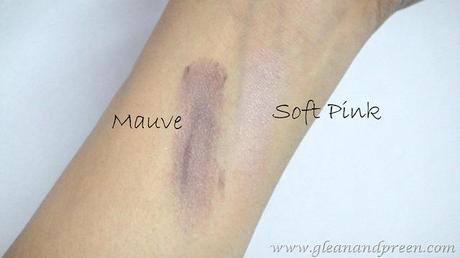 Soft Pink: Though it's mentioned as Soft Pink it's more of a Lilac shade with a pearly finish. This color is apt for highlighting the eyes with a soft touch of lilac.
Mauve: This is a brown shade with purple undertones which suits every Indian Skintone. A color apt for crease, outer V's and lash-lines. This also has pearlescent finish.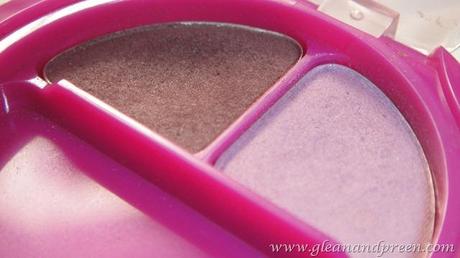 Texture: Smooth soft and easy to blend. It totally meets my expectations.
AVON Eyeshadow Duo Effects
Pigmentation? My eye-lids are quite dark so most of the eye-shadows will not pop-up unless used with a primer. The colors from these eye-shadows do show well on my eye-lids even without a primer. But again it may not give opaque color so for better intensity and wear time the use of primer is recommended.
Fall-out? The Lilac shade has negligible fallout but the Mauve falls out a little more. No worries it can be brushed off easily.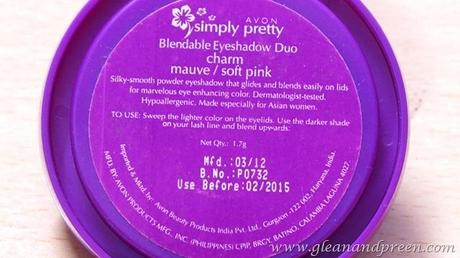 Finish? The Brown shade gives a soft intense effect while the lilac shade gives a soft glowing finish. I love using both the shades together for soft purple smokey eyes.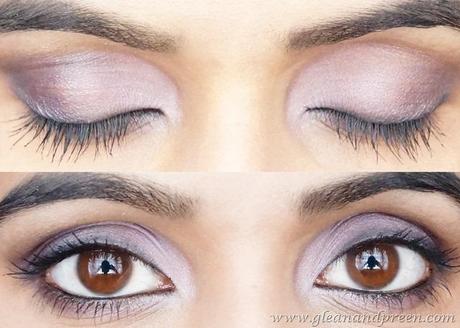 I have created a Purple Smokey Eye without brushes using the AVON Blendable Eye Shadow Duo in charm. Check the Video Tutorial below.
Beginners Eye Makeup–No Brushes Smokey Eye With Avon Simply Pretty Eye Shadow Duo
Lasting Power? 4 hours without primer and 6 hours with primer. Post which it fades away without creating any mess.
Eye-friendly? No irritation observed even when worn for 12 hours.
 

Cost Efficient?

Totally Efficient

Final Note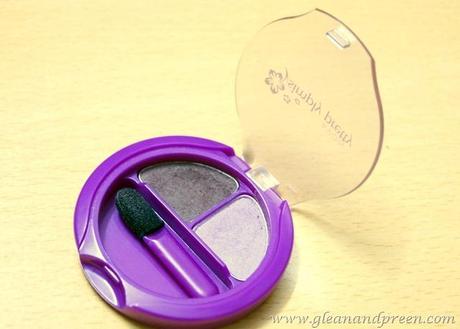 Beginner or a Pro, if you like the shades offered by AVON in the Simply Pretty Blendable Eye Shadow duos then buy them without any second thoughts. They may not give you the professional feel but some fun you can definitely have with these eye-shadows.
Dear Readers: Let me know your opinion about "Avon Blendable Eyeshadow Duo in Charm" in the 'Will You Buy It' section and share your feedback about the review through comments.