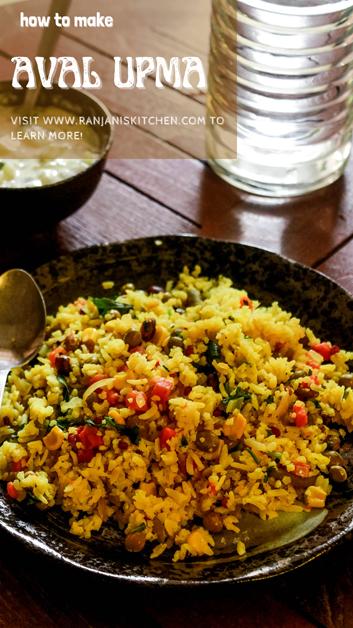 aval upma | poha upma | easy dinner recipes - simple,quick and healthy recipe to make within 10 minutes. There is no pre-planning needed to make this upma recipe.
What is aval upma / poha upma?
Aval upma is a healthy recipe that goes perfect for breakfast or dinner. Poha recipes are very light and make your tummy full. So that you feel energetic without eating much and you can maintain your body weight as well. Aval upma is made using a thick poha variety(you can use any variety of poha and the procedure is the same except thin poha) .washed and soaked poha is seasoned with onions and steamed mixed vegetables. It is a super easy and delicious upma recipe that all ages can enjoy.
Is POHA UPMA healthy?
Undoubtedly it is healthy and nutritious as it has good iron and carbs. Moreover poha is gluten free. So it is best to start your day with poha upma. You can make poha recipes for lunch and dinner too. It is best and light to consume anytime
Is poha beaten rice?
Poha is a flattened rice from the process of parboiled rice,rolled,flattened,dried and cleaned one. It comes as thick and thin poha. The difference is because of the pressure they used. I still have wonderful memories of watching flattened rice made by amma and grandma. The aroma of par boiling the rice is wonderful and they roll and flatten the rice using traditional wooden mortar and pestle.
Can I eat POHA at night?
Yes you can eat poha upma for dinner. It is very light and gluten free so it will digest quickly.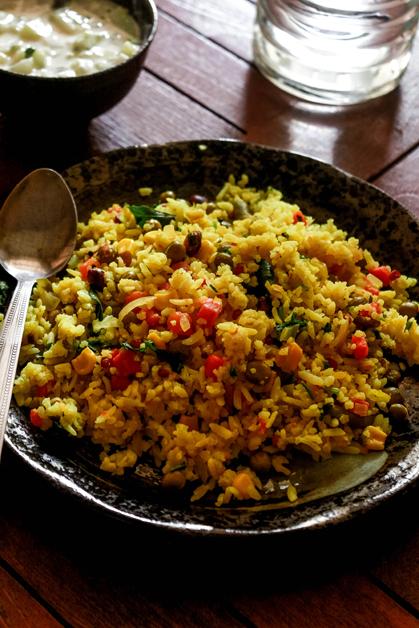 Variations:
Vegetables: I used canned vegetables which contained beans,carrot,green peas and corn. Using vegetables is completely our choice. You can use it as per availability and for your taste.
Serving suggestions:
It is best to have it plain. Or you can eat with any raita or even sugar or jaggery works best.
Spice & salt : adjust the chilies and salt for your taste.
Lemon: do not skip adding lemon finally as it really enhances the flavor and balances the taste.
Soaking time: thick poha we can soak for ten minutes. If you are using thin poha variety,there is no need of soaking.just rinse and use it directly.
Breakfast recipes:
Ingredients:
To season:
video recipe for aval upma:
how to make poha upma:
Chop vegetables as needed for upma.add 1&½ cups of poha and rinse for 2 to 3 times in plain water without any dust.
Soak in water for 10 minutes and durian off the water.
Heat a kadai, add 2 tbsp of coconut oil, season with mustard seeds, urad dal, hing and curry leaves.
Now add chopped big onions and saute until it turns transparent and cook mixed vegetables,salt and turmeric powder.
Mix everything well and drained poha and mix everything really well without mashing the poha.
Close with a lid,keep the flame low and cook for 2 mins and turn off the flame.
Now add coriander leaves and squeeze some lemon juice.mix well.
Serve with raita or with your favourite side dish for upma.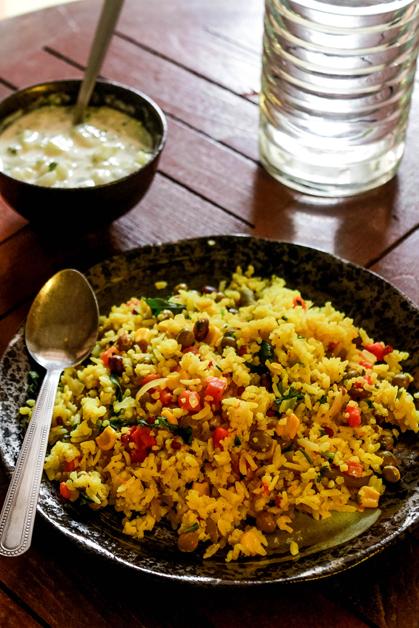 (Visited 4 times, 4 visits today)