We all want to be warm & stylish during the colder months but a girl has to have a good supply of beauty supplies too! The winter months bring paler skin, dry skin & rosy cheeks so a little TLC doesn't go a miss when you aren't feel bright eyed and bushy tailed.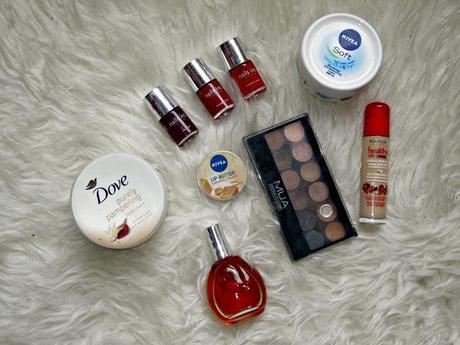 In order to make myself feel a little more preened I have a selection of product I like to reach for when Jack Frost bites. The only area I have left out is hair simply due to my pixie growth process which has covered pretty much all my haircare needs!
Nails through out Autumn and winter tend to center around plums and reds with Nails Inc being a favorite brand. Saville Row is a rich, plum shade that is a little softer than a true black but still has the deep, gothic shade that works perfectly in the colder months. Picadilly Circus is a deep cerise shade that is interesting without being a very bright, garish pink. Think a pink for a lady! I love this shade, it is so beautiful and is an interesting color. Finally Victoria & Albert is a beautiful true red. I am a massive red nails fan & this polish does not disappoint.
Skin & body care. I have dry skin. There is no way around it. This said, I need to moisturse daily sometimes twice... For this I have become a huge fan of Dove Purely Pampering body cream with Shea Butter and warm vanilla. I love this cream. It isn't too heavy or sticky that I can't get dressed after I put it on & the smell is light but still has a little kick. For my face, Nivea soft is a staple. This cream never lets me down.
For scent, I have gone for an old favorite of Chloe. I prefer the eau de perfume but sadly I can't part with the money currently so settled for the toilette. The smell is quite musky but smells amazing when it has settled into your skin & lingers. 
A few make up picks now. For eyes, I am all about a bit of smokeyness which the MUA Undressed palette is perfect for. Plus it is an absolute steal! The colours are a mix of matte and shimmers ranging from light brown to charcoal shade making it so simple to create an interesting eye look. For lips, the Nivea lip butter in caramel cream has been a staple since the summer & I am sure will see me through the colder months. I have decided to go fake tan free this Autumn/Winter, partly due to my skin being not so great & partly due to my love of pale skin with dark eyes! For this I have stuck with my one true love, Bourjois Healthy Mix Serum in shade 51, light vanilla.