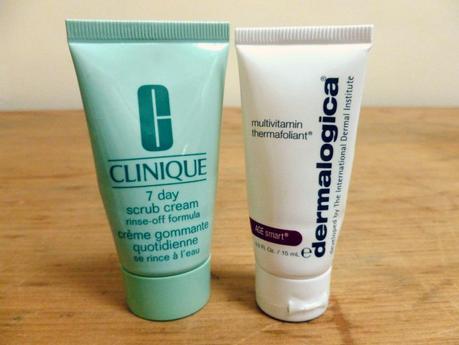 Exfoliators - a review
I seem to be on a constant quest to find the right skincare products to suit and benefit my skin. My main bugbears are open/large pores which inevitably leads to blackheads - gross. If I were to put my skin on the dry-combination-oily scale, I suppose I have quite oily skin, but   as I get older this is becoming less of a problem.
I am pretty hot on skincare - I cleanse (Liz Earle Cleanse and Polish, shocker!), tone (Liz Earle Skin Tonic, I'm such a cliché) and moisturise (The Body Shop Vitamin E Face Mist) twice a day as well as exfolating about twice a week. Oh, and I try to use a face mask on a Sunday night!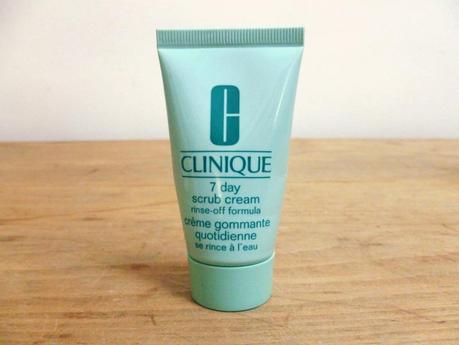 The two products above are my current go-to's when I need a good facial scrub. I've been a fan of
Clinique 7 Day Scrub
for a few years now; it does a really thorough job and is often included in bonus time and sold cheaply on eBay. It is effective but not harsh, and like most exfoliants is cream-based. A 100ml tube of this costs around £17.50 which is a tad pricey, but literally lasts so long. I like buying the little 30ml tubes on eBay to take on weekends away and holidays -there is nothing worse than feeling you need a good scrub and not having one to hand!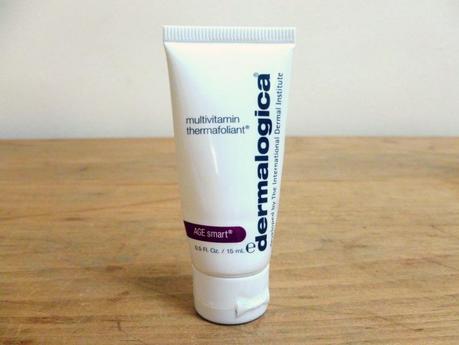 The other is a Glossy Box discovery -
Dermalogica Multivitamin Thermafoliant
. It is part of their AGE Smart range, and although I'm only 24 I suppose now is a good a time as any to start delaying those wrinkles! The product itself is really... intense. It is basically 'pure' exfoliant; it isn't set in a cream to disperse the polishing beads, so is very powerful (as they say on the tube!). It is sort of like in gel form, and is amazing at scrubbing your face to within an inch of its life. You can use it wet for a less intense scrub, or on a dry face for a really powerful cleanse. A 75ml tube of this will set you back a staggering £41. For this reason I haven't bought it in full size and am still using the sample 15ml tube! I had a cheeky look on eBay though and it looks like you can get it for around £25 from some sellers. 
Do you use either of these products? Can you recommend me something even better?