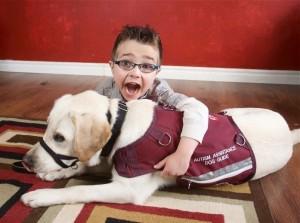 Four-year-old Easton Rogers bounds into the living room with a little red tool box in hand. He pulls out an oversize screw driver and attempts repairs on a tripod left in the middle of the floor.
Easton is a creature of habit. He likes routine.
There are times when change — even something as simple as moving furniture or his favorite TV show ending — upsets him so much, he'll bite the back of his hand or bang his head on the floor or wall.
Change means anxiety.
He also gets upset if a shirt tag is too itchy, his pants and socks too restrictive, or if he gets wet.
He's doesn't understand danger and would bolt out the door — even onto the road into traffic — if his parents, 27-year-old Jennifer and Jason, 31 — didn't contain him with a baby gate. He'll tries to run away in the grocery story. But if mom puts him in the shopping cart, he bangs his head because the metal is too cold and he doesn't like the safety buckle touching him.
Easton was diagnosed with autism when he was two years old. His friends are his seven-year-old brother, Brighton, who has Asperger's Syndrome (a form of autism) and his two-year-old sister, Aspynne.
About a month ago, a new friend entered his life. A friend whose unconditional love and the occasional hug, has made Easton calmer and less anxious.
Her name is Vogue. A 16-month-old Yellow Lab, trained through the Lions Foundation of Canada Dog Guides as an Autism Assistance dog. Her job is to be Easton's constant companion.
When he's feeling anxious, his parents tell him to give Vogue a hug.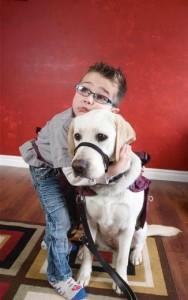 On this day, Easton asks multiple times: "When can I go to gramma's?" His brother and sister are there without him — and that's not what usually happens. When he starts to cry, mom offers him a reassuring "soon" and tells him to give Vogue a hug.
Easton curls up with Vogue, and uses her as a pillow as he watches Toopy and Binoo.
Since Vogue came into his life, Easton is calmer, and with his furry friend sleeping at the foot of his bed, he hardly wakes up anxious at night.
When they go outside, Vogue wears her maroon vest that lets people know she's a working dog. And Easton is tethered to her, to prevent him from running away.
Kids with autism are easily overwhelmed by things like noise, lights and change in routine, says Lions foundation guide dog communications manager, Natalie Moncur.
They react with "meltdowns" — crying, screaming and behavior that looks like misbehaving — or running away.
Petting, hugging or talking to their assistance dog relieves the anxiety.
"There sees to be an unspoken relationship and bond that forms quickly," she says.
Since the Autism Assistance program began in 2009, 120 dogs have been placed with children from three to 18 years old. Last year, 39 dogs graduated. The current waiting list is 43 children, says.
It takes roughly $20,000 to train each guide dog — vision, hearing ear, seizure response, special skills and autism assistance — and they are given free, to eligible families. The Lions foundation does not receive government funding, and relies on donations.
On April 19, The Rogers family is organizing a fundraiser for the Lions Club, to give back to an organization that has helped their son.
"It just gives us a peace of mind knowing Easton can live the life of a normal four-year-old," says Jennifer.
"He just has an extra companion by his side."
~ Courtesy of Welland Tribune
Tags: autism dog, calming dog, dog calms boy, dog helps boy