Authors Behaving Badly: When Authors React Badly to Negative Reviews and Criticism!
Or: How NOT to Handle Bad Reviews!
When an author puts a book out into the world they must know it's not going to get completely positive feedback. All books, throughout history, from Hamlet to The Da Vinci Code, have people who love them and people who hate them. And most authors handle the negative reviews pretty well (even if they're crying inside).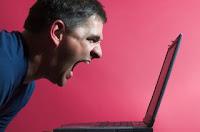 However, some authors decide that they want to fight their critics. Some get personal. Some get downright nasty. Did someone say car crash?
I was originally going to post one article on this but so many authors have behaved badly that I thought I would make it a weekly feature! I bringz you all the drama every Thursday from authors who have been a little naughty.
3. Kiera Cass has a BAD Agent!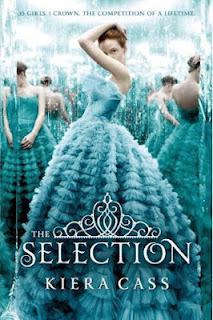 Who is She:
Kiera Cass (YA Author)
Who She Responded Badly to: Wendy Darling from book blog The Midnight Garden. 
What Made the Fur Fly: This story is very similar to the Leigh Fallon incident which I posted about last week. Will authors never learn?! Wendy Darling posted a very negative one star review of Cass's book 'The Selection' on Goodreads which found its way to the top of the review pile. And the agent and author of the book were having none of it. However, they, unlike Fallon, took to a much more public forum to try and bump up the positive reviews to hide the negative ones; that good old clothes line full of dirty underwear: Twitter. Here is the conversation they had through the medium of tweets: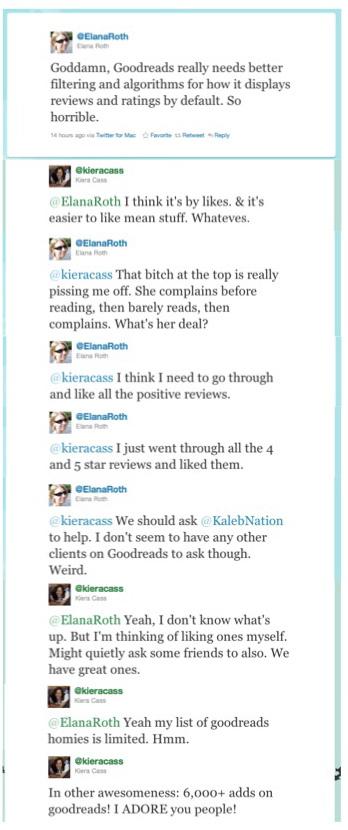 Wendy Darling also started getting some interesting 'Anonymous' comments on Goodreads....which seemed a little suspicious. Hmm. I'm saying nothing. Here they are in all their glory: 

What other authors can learn from this: DON'T SLAG OFF REVIEWERS ON TWITTER. It will never end well and you will isolate a lot of readers. And get an Agent who won't splash your bizzniss all over the second most popular social networking tool on the globe. Oops.
Previous Authors Behaving Badly:
1. Jacqueline Howett
2. Leigh Fallon