Authors Behaving Badly: When 
Authors React Badly to Negative Reviews and Criticism!
Or: How NOT to Handle Bad Reviews!
When an author puts a book out into the world they must know it's not going to get completely positive feedback. All books, throughout history, from Hamlet to The Da Vinci Code, have people who love them and people who hate them. And most authors handle the negative reviews pretty well (even if they're crying inside).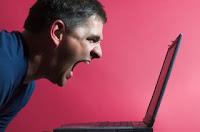 However, some authors decide that they want to fight their critics. Some get personal. Some get downright nasty. Did someone say car crash?
I was originally going to post one article on this but so many authors have behaved badly that I thought I would make it a weekly feature! I bringz you all the drama every Thursday from authors who have been a little naughty.
13. Emily Giffin, Plus Husband and Assistant, Run Amok on Amazon!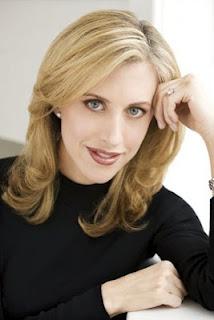 Who Is She: Emily Giffin, author of best-selling novels such as 'Baby Proof' and 'Something Borrowed'.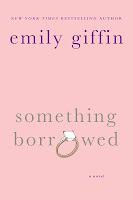 She currently has 
115,304 Facebook page likes and 26, 341 followers on Twitter. Which is a lot. 
What She Responded Badly To:
It wasn't just she who responded badly.
 Oh no. Some one-star reviews on Amazon caught the eye of her husband and her assistant and they decided to go in, all guns blazing, and denounce those reviews. Oh, and then Emily Giffin decided it would be a good idea to share it all with her Facebook followers and Twitter followers. That's 115,304 people on Facebook and 26,341 on Twitter. I bet you can guess what happened next.
What Made the Fur Fly:  
OK so here is the review on Amazon that started it all: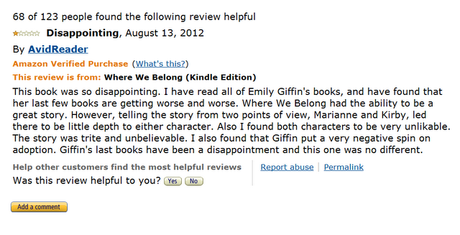 Not too bad right? I mean, it's not a positive reviewer but I can see nothing in there attacking the author personally. They have read the book and have issues with the text itself, not the author. However, the review caught the attention on Emily Giffin's husband, who responded thus:
*(screencap taken from Book Goggles as the original comment was deleted by Amazon)*

Someone then responded who had identified the comment as coming from an account associated with the author, Emily Giffin. Her husband then clarifies that it was him who posted the comment, not Emily herself: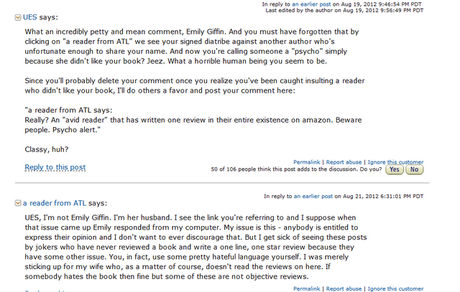 There are then many comments attacking the reviewer and her opinions (see full review and comments here). While this is going on, Emily Giffin decides to post all about it on her Facebook page (did I mention she has 115, 304 fans on there that she's basically encouraging to 
hassle
 one reviewer?):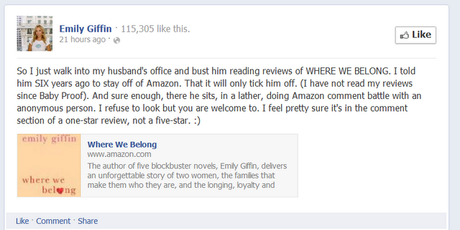 She continues to post about it and find it amusing, even though more and more comments are flooding into Amazon attacking the reviewer:

Then, later on her Facebook page, she states that, 'the whole thing began with some malicious comments about me--comments that seemed personal':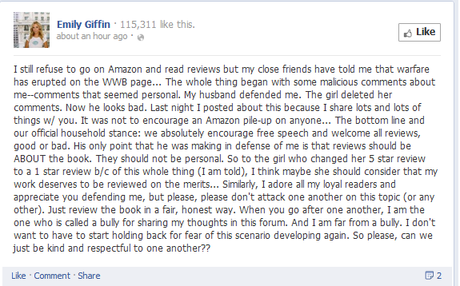 Perhaps later on malicious comments were posted that have since been deleted, but it certainly didn't begin that way. It was a genuine review by someone who didn't like the book, a reviewer who purchased her book, read it, and was disappointed. As to the second review she refers to, 'the girl who changed her 5 star review to a 1 star review' I have screencapped that review below: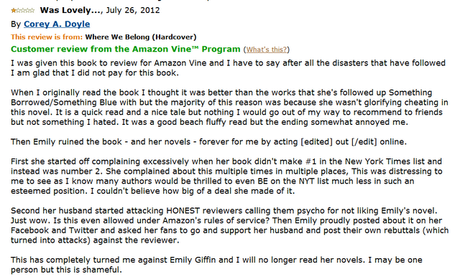 So, this reviewer was inspired to change her review due to Emily Giffin's, and her husband's, conduct towards reviewers. Yet, that didn't stop Emily's assistant stepping in and posting a very aggravated comment on the updated review: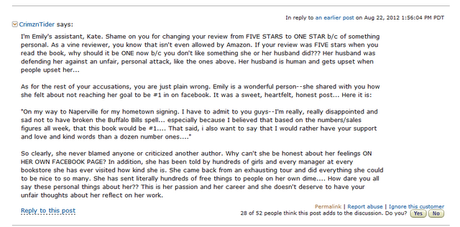 There are subsequent comments from her assistant defending her honor (see full review and comments here). Emily Giffin again posts the exchange to her 115,340 fans on facebook to sink their teeth into: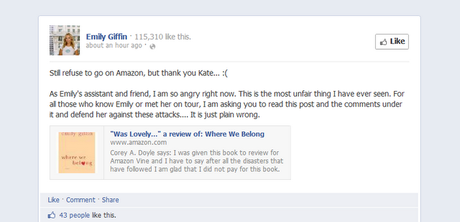 Oh, and just so it's on the record, this was all posted to Emily's 26,341 followers on Twitter too: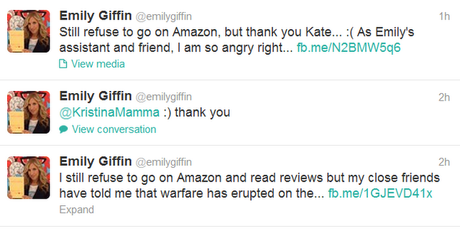 Later, came an apology from Emily's husband through her Facebook page:

Now let's move on? I don't think it's going to be quite that easy Emily. I mean the internet is known for letting things disappear. Isn't it?
Who do you think was most in the wrong in this case? Reviewer 1, Reviewer 2 Emily Giffin, Husband or Assistant? All of them? Let me know!