Book Blurb
The man who became a Brahmarishi...
The curse that banished him to the hell of hells...
And the revenge that threatens to destroy the three worlds...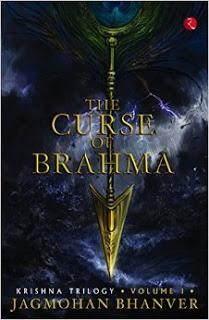 When Lord Brahma, the God of Creation, banishes his star pupil from Swarglok in a fit of rage, he does not foresee that his decision will alter the fate of the three worlds. Mortally wounded, and anguished at Brahma's unfair punishment, his pupil struggles to survive in TamastamahPrabha, the hell of hells. In time, he becomes the Dark Lord, the most feared figure in PataalLok, who swears to destroy Brahma.
The power of the Dark Lord soon begins to make its presence felt in the mortal world. Vasudev, the brave prince of Bateshwar, becomes the hunter of Asura assassins; his closest friend, Kansa, almost dies while trying to save his sister from a group of deadly monsters; and the most valiant kings in Mrityulok turn over to the dark side, driven by forces beyond their control.
Only one person threatens the Dark Lord's well-laid plans - Devki, the beautiful princess of Madhuvan, who is destined to give birth to the warrior Krishna.
Will the Dark Lord allow Krishna - the person who has been prophesied to destroy him - to be born?
Buying Links
Goodreads

,

Amazon

,

Flipkart
Author Interview
1.

  
What inspired you to write the book?
I took a sabbatical from my banking career in 2004, I started reading whatever material I could find on Krishna, including Vedic texts that date back thousands of years. I happened to be very close to the subject of Krishna from a very early age. As I grew older and read more about Krishna, I realized there was far more to him than we made it out to be. I had resolved early on to research this.
And I realized that the story of Krishna as we know it could well be a myth....that the actual story might in fact have been so terrifying that history was compelled to hide the truth. After all, when we are talking of time dating back thousands of years, who can be certain where fact ends, and fiction begins.
2.

  
When did you realize that you want to write a book?
There are a multitude of stories hidden away in the recesses of my mind. And when an idea gets hold of me, it is like being driven by an ague. You can't sleep, you can't think of anything else. You have to write. And writing provides succour and peace.
The experience of seeing your characters come to life on paper is the biggest high. Creating a story where none existed before, is another.
3.

  
Who helped you in writing the book and please say about their contributions?
There are too many people to thank and it would take up a lot of space if I were to do that. Friends, business partners, journalists and several more people who read the first draft of the book and helped with suggestions.
Chiefly, I would like to thank my wife, Komal who read every chapter of the book as soon as I completed writing the same. And who gave immensely helpful inputs. She was my worst critic and my biggest support. The days I was writing the book – I would have gone completely maniacal if she wasn't holding the fort at home and at office, enabling me to focus single-mindedly on writing.
4.

  
How is your book going to inspire the readers?
Mythology itself is immensely inspiring. It lets you know what we as a nation and as a people have been capable of. And that motivates us to yet again endeavour to achieve past glory. Secondly, it gives sound rooting to younger people who may not have been privy to a lot of things about the nation's culture and practises; things that have been hidden under the dust of thousands of years, and which has the potential to inspire our new generation.
And finally, by posing questions that may be philosophical and compel people to ask themselves what is Evil and what is Good. And to try and recognize that good in even the most evil of people. And being cognizant that the line dividing the two is very thin and that the balance could tilt either way if one s not careful.
5.

  
If you are given the chance to change one thing in your book what would it be?
Haha. I would perhaps explain the shlokas a little more.
6.

  
How do you find time to write and which part of the day is best for writing for you?
Time can never be found. One has to create time if one really wants ot do something. If I haven't written for a couple of days at a  stretch, I make sure that I stay up the third night and make up for those two days. And if one is really passionate about writing, they will not feel they have lost anything in the bargain. Even a  sleepless night, spent in writing will serve to energize!
7.

  
Which books have inspired you the most, in the journey of writing this book?
For as far back as I can remember, I have been an avid reader. I read on an average 100 books a year and I think it has been this way for as long as I can recall. My favorite authors are Charles Dickens, Thomas, Hardy, RohintonMistry,, Hemingway, Charlotte and Emily Bronte, George Eliot, Dostoevsky, Tolstoy, Prem Chand. The list is endless.
You become what you read! So I guess my personality to an extent has been shaped by what I have read. And somehow that finds its way into what I write too.
8.

  
What is the best advice, you would give for writers who are trying to write a book?
Writing is personal. One shouldn't give or take advice on it. If however, you would want me to share a few things I have picked up on the way, I could do that.  The decision to follow it lies with the other person.
If you are writing nonfiction, select a subject where you are the expert. If it is fiction that you want to focus on, write about what you are passionate about. Don't emulate the writing style of other authors Develop your own brand of writing and your own expression. There's a greater chance of being recognized that way. And finally, don't wait for the perfect moment to start writing. The perfect moment seldom happens. Make time to write. Use the weekend or the flight time or any other time you can make use of. But start writing!
9.

  
What are your hobbies?
I love to read. That means I read at least 3 -4 books a week. If I can't find time to read during the day, I will create time to read during a car ride to the office or back home, or even in the loo
J
And if that is not enough, I will stay up and read till I have finished my reading quota for the week.
Music is another source of immense joy. I listen to Ghazals from old maestros and my varied taste in music allows me to listen even to stuff my teen aged daughter finds interesting.
Apart from that, taking time out to vacation at a mountain resort or at the beach is very thrilling.
10.

  
What can we expect from you in the future?
Pichai – The future of Google (with Hachette) – releasing Dec 2015
Click (with Hachette) releasing in April 2016
The Rise of the Yadavas (Vol 2 in the Krishna Trilogy) – releasing in April 2016
About the Author
Jagmohan Bhanver is rated amongst the Top 20 Executive Coaches by the GCF (Global Coaching Federation) & is the best-selling author of four books
.
Executive Coach & Leadership Mentor to CEOs

Jagmohan is rated amongst the Top 20 Executive coaches in the world. He is referred to as the "Mentor's Mentor" in corporate circles and has mentored Industry leaders, celebrity entrepreneurs, media people and CEO's at leading org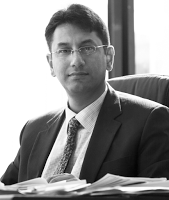 anizations. In the International speakers circuit, he is rated among the most powerful speakers in Asia and one of the most popular Asian speakers across the globe by the Worldwide Speaker's Bureau.

His latest paper on "leaders as super motivators" has been finding takers in various corporate houses globally and has also been introduced in top B-schools as part of management lessons for executive MBA's.


Educationist & Public service

Jagmohan is the winner of the Indian Achiever's Award for Excellence in Education in 2009. He was awarded the Rajiv Gandhi Shiromani Award for outstanding individual achievements and distinguished services to the nation. Subsequently, he was also the recipient of the Rajiv Gandhi Excellence Award. He is also the recipient of the Shiksha Bharati Award.

Internationally bestselling author

Jagmohan's first book (self help genre) titled "Get Happy Now" was on the best selling lists of most countries and on the Top ten list of leading bookstores in India. His second book, titled "Think your way to Millions" which is on the subject of Behavioral Finance was nominated for the best non-fiction award by Hutch-Crossword in India. This is one of the few books on behavioral finance. His third book was titled "Nadella – The Changing Face of Microsoft." This book was published by Hachette, the largest publishers in the world. Jagmohan's latest book is part of a three-volume trilogy on Krishna and is considered as the most awaited book in 2015. It is titled, "The Curse of Brahma."
a Rafflecopter giveaway