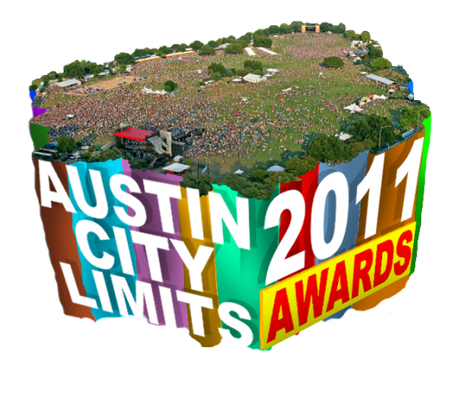 Graphics credit: Dylan Clancy
Austin City Limits is a beast of a festival. Everything from the park to the amount of food to, of course, the headliners are larger than life. For three days we baked in the sun (except that one day of light rain, which was awesome), waited in giant crowds to see show after show and had a spectacular time. ACL is a huge festival that runs like clockwork — there are no infinitely long sound checks and no bands that go on late or stay on after they are slated to leave. This year, the festival sold out with 75,000 people attending, making it just as gigantic as Texas likes everything else.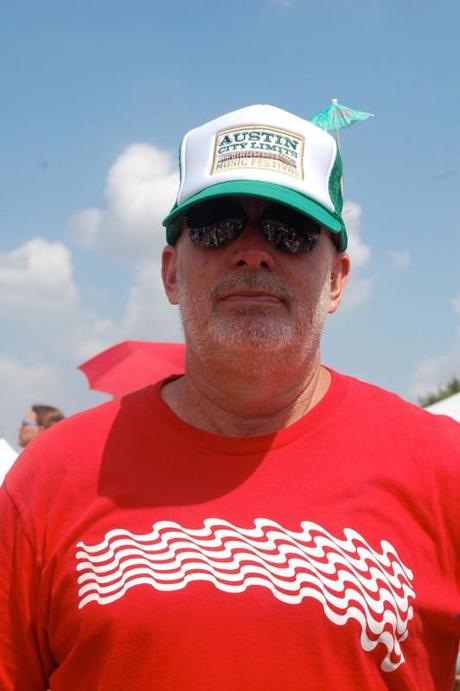 As always, we have come to give out our list of The Wild Honey Pie Certified Austin City Limits awards!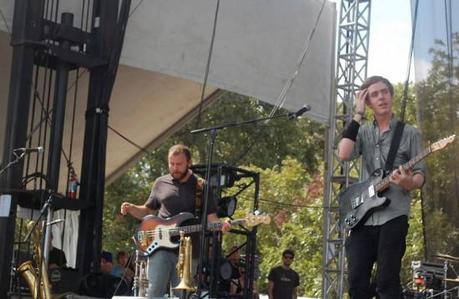 With the addition of multi-instrumentalist Jon Natchez, Yellow Ostrich's sound filled out the giant Google+ Stage on Sunday morning. Alex Shaaf and company let loose and put on an entertaining and energetic show, while still maintaining the awkward charm that we've come to love. Their early set at the giant stage was sparcely populated at the beginning, but thanks to the band's spectacular set many curious festival goers stopped by and filled the stage to the sound board by the end. It was a great way to start the last day of the festival.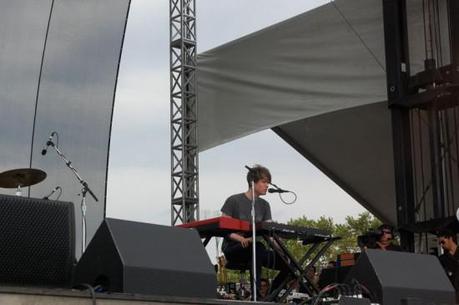 James Blake's music, as has been noted by everyone that's seen him at a festival, is best heard in a small cavernous space in the evening rather than outdoors in the blistering heat at 3PM. Still, he put on quite a show, with the slow quietness of his music absolutely capturing the Honda Stage and enrapturing everyone who cared to listen.  While much of Blake's music is quiet and slow, the digressions into noise at the end of songs like, "Never Learnt to Share" absolutely filled the park. The stark beauty of Blake's music was not lost in the Austin heat, it just made that heat more atmospheric.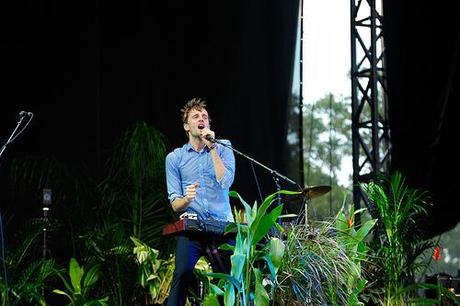 Photo credit: Matt Ellis
With a brilliant stage set up and music as loud as any headliner, the crowd stretched out way behind the sound board and was freaking out the entire time. Sure it was hot, sure it was in the middle of the day, but Cut Copy delivered as always, and the crowd was right there with them the whole time. Even in the middle of the day they go crazy – Cut Copy is a must see set at any festival.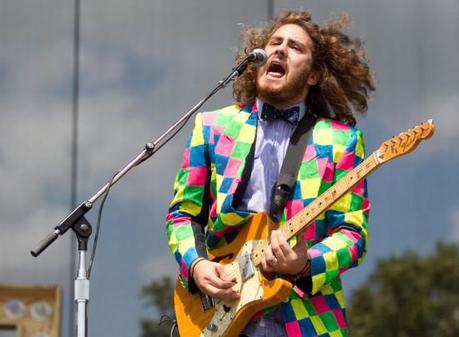 Photo Credit: Jay Janner
This duo, like their ironic, whimsical name suggests, knows how to have a great time and spread their good vibes to the crowd. Playing favorites from their EP, and the best off their album, including my personal favorite "We Almost Lost Detroit", Dale Earnhardt Jr. Jr. rocked incredibly upbeat jams and brought smiles to the faces of the crowd. Also noteworthy, their cover of Steve Winwood's "Higher Love" was absolutely stellar and had everyone dancing with their hands in the air. Though they had an earlier slot at the Honda Stage on Sunday, their energy was exactly what each person needed to wake up, myself included.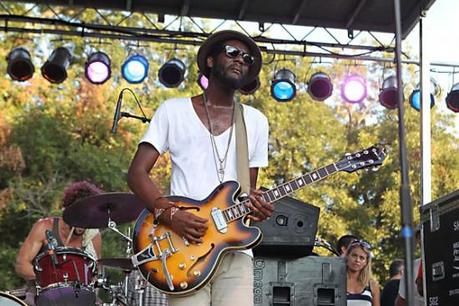 Photo Credit: Gary Miller (Austin Chronicle)
As one of the festival's limited number of Texas natives, Gary Clark Jr. may have played the smaller BMI Stage, but his performance was worthy of one much larger. While his brand of intricate, authentic blues is better suited for the intimacy of an indoor club, the crowd he drew certainly wasn't complaining about the outdoor venue. As always, he let his guitar skill do most of the talking, maintaining the sort of mysterious swagger that will keep people coming back. It's great to see him play his home town, but I'm eager to have him back up North.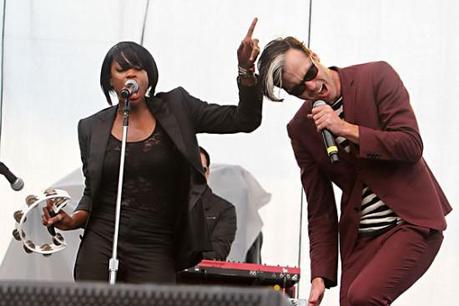 Photo Credit: Gary Miller (Austin Chronicle)
I'm not saying that Fitz and the Tantrums don't put on a damn good live show. Almost everyone who's seen them has instantly fallen in love with their completely magnetic presence and catchy songs. That being said, I just couldn't feel that when I saw them on Saturday. Maybe the mix was poor (which it was), maybe the volume didn't reached my ears correctly, or maybe the crowd wasn't enthusiastic enough. Whatever it was, I left wanting more and I hadn't expected to.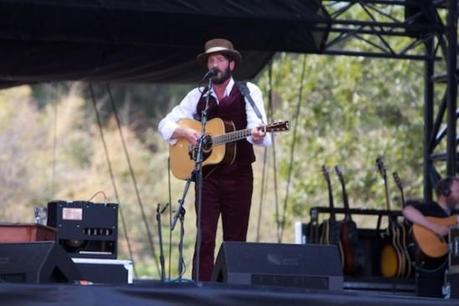 Photo Credit: Nate Azark
Ray Lamontagne completely blew me away a few years ago at my first ACL. With the sun setting in the background and his beautiful voice wafting over the crowd, it was nothing short of amazing. For that reason, I had very high expectations for his performance this year. Though I found myself missing the more stripped down versions of his songs that seemed to carry so much emotional weight, the full band arrangements were incredible in their own right. Wearing what looked to be a velour one-piece, Lamontagne and his band played with an innate passion for music and a desire to share that with the crowd. Bravo!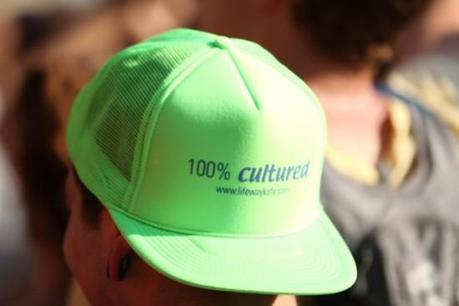 Photo Credit: Nate Slevin (Consequence of Sound)
Holy balls, I have never seen a crowd so huge. Like many, I went to see what the fuss was about, and like several more, I had to leave half way through because the number of people there was almost oppressive. They filled up the space of the Google+ Stage and then some with, relative to the rest of the festival, a very young crowd. Donned in bright tank tops and hats, those watching Chiddy Bang were certainly there to party — easily done considering the easily digestible hip hop spewing from the stage.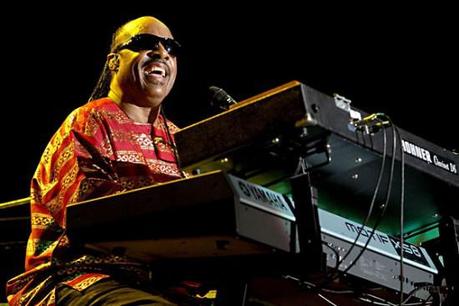 Photo Credit: Gary Miller (Austin Chronicle)
There was no way to hear the living legend if you weren't in front of the sound board for the show, which means the vast majority of people who came to check out Mr. Superstitious himself were unable to take much away. It had to be one of the worst sounding mixes I've ever heard. Those who were more dedicated than me and stayed through the set said that it never got much better, just harder to hear with all the people yelling "turn it up."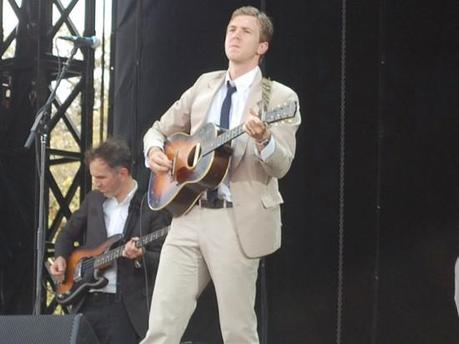 There was little respite from the heat on Sunday, making it difficult to really lose yourself in any of the sets. The Walkmen, however, didn't let it get to them, playing in suites and ties the whole time and sounding better than ever. They played several new songs that got me all kinds of amped up for their new album as well as two of the tracks responsible for getting me into indie rock: "The Rat" and "In the New Year". I may have left the set a sun-baked husk, but I left it a happy sun-baked husk.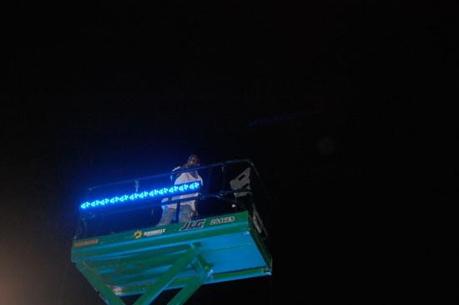 I think I'm still high off the amazing show put on by Kanye West. In fact, I'm not sure I'll ever be able to come down. That, my friends, was one hell of a performance. From being brought in on an elevated platform (that was only around 10 feet away from where we were standing) to the stunning troupe of modern dancers on stage, nothing about this show was small. While Kanye wasn't able to speak his "truth", as he called it, due to a sound curfew, it allowed him to focus more on the music. His ramblings flowed more with the songs, my personal favorite being at the end of Runaway where he promised that "he didn't like our shoes cause he's an asshole" and we are "always fine" (that Ye!). While some were surely saddened by the lack of Kanye's signature brand of airing of grievances, more energy was put into the spectacle, as he broke out hit after hit in a three act opus. It was the last night of the My Beautiful Dark Twisted Fantasy tour, a tour I feel special to have witnessed.