I love a travel gadget and I found two great ones at the NSW Caravan, Camping, RV and Holiday Supershow on at Rosehill Racecourse, Sydney (on until 28 April).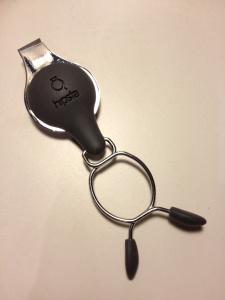 Hipsta water bottle holder
The first one suits all travellers. Called Hipsta, it's a nifty little clip that holds a water bottle. It can be attached to a belt, waistband, bag or backpack.  It's stylish and really lightweight, which is important for travelling, and the squeeze release system means you can get the bottle in and out quickly.
I love  that it is Australian designed.  I bought a grey one, but it comes in a range of fun bright colours.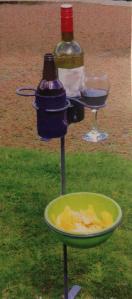 Aussie drink mate
The next gadget is more for the great outdoors – picnics, camping or outside the caravan – anywhere you need to put down a drink, but there's no table. (Like at our yacht club tradition of 'five-a-rockies' – gathering on the nearest beach at 5pm for drinks and nibbles.)  There's nothing worse that putting your drink down on the sand and having it knocked over.
Called Aussie Drink Mate it is a metal stake that pushes into the ground and has room for four drinks – wine glasses, bottles, cans or mugs - and a bowl for food. Additional bowls can be bought separately.
I haven't tried mine yet, but it looks easy to put together. It needs a carry case, but company owner Mark Noble tells me one will be available soon.
You can buy these items online but both companies are offering show discounts, so if you can, head to the NSW Caravan, Camping, RV and Holiday Supershow before 28 April.