Hello all! Spring is almost here and finally it's time to bid goodbye to winter. Skin dryness remains one of my major concerns during winter. But there is another problem which I have faced continuously is pigmentation problem. I had major pigmentation problem few years back, however following a regular skin care routine has helped me to tackle the problem a bit. Today I will be reviewing one such product that has helped me immensely to get rid of my pigmented skin and kept my skin moisturized all through the winter season. Read on to know more about the wonderful product.
Price: INR 250 for 100ml
Ingredients: Saffron, Turmeric, Winter Cherry. For complete list of ingredients check the backside of the bottle.
What the Product Claims: This powerful skin oil provides the purest, most natural and effective way of reducing dark spots and pigmentation, delivering essential nutrients into your skin's upper layers. Revealing lighter, brighter, radiant and youthful looking skin.
Method of Use: Gently massage every morning and night on clean skin using upward circular movements.
My Take on The Product: The product comes in a plastic bottle with a golden screw cap. There is also a protective inner cork-type cap.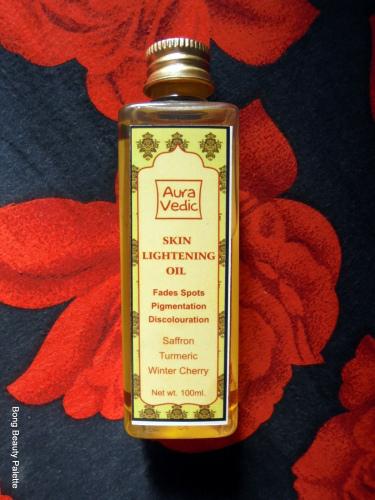 The packaging is sturdy. Since the product is liquid, I'll recommend you to avoid carrying it while traveling to avoid spills and leakage. The oil is neither too thick nor too runny and feels really lightweight and non sticky when applied on face. The oil is transparent in color.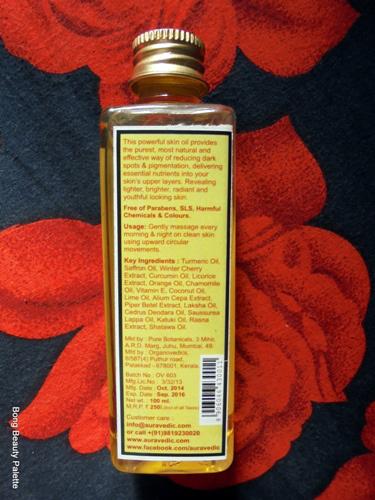 If you look into the bottle carefully you will find few strands of saffron floating in the oil. I am using the Auravedic Skin Lightening oil for almost a month now before going to bed and I can feel the difference myself. My skin feels brighter and softer with regular use, Also it has worked effectively on mild pigmentation and dark spots making my face clearer.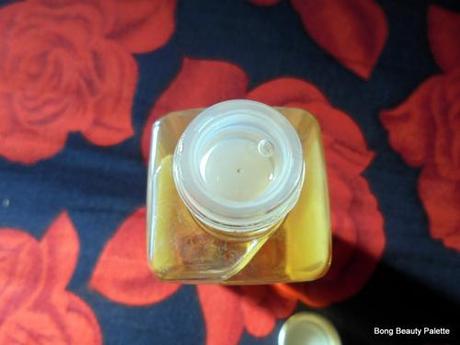 It has a mild fragrance which reminds me of oranges! It maybe because the product has orange oil as one of its key ingredients.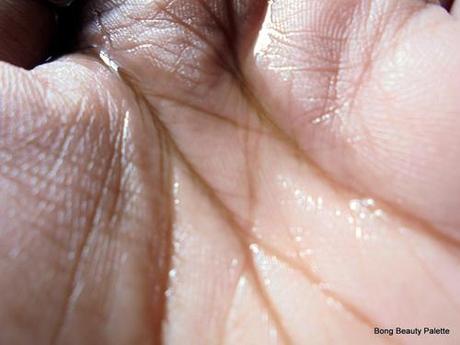 Overall I am more than satisfied with the product and will recommend to everyone who are looking for a natural and effective cure to dark spots and pigmentation.
Pros: 1. Lightweight
2. Smells nice
3. Fades dark spots and pigmentation
4. Suits all skin types
5. Makes skin brighter
Cons: None
Rating: 5/5
Recommendation: Highly recommended!