Hi everyone,
Today I shall be talking about Auravedic Ritual Cleansing Ubtan Mask which I have been testing for quite sometime. If you follow my blog you may be already aware of this brand Auravedic. You can read all my reviews of this brand HERE Having oily skin I always prefer natural ubtan or mud masks for my face as they do wonders for my skin. They tighten the skin and reduces the appearence of pores. To know how this product fared on me, keep on reading....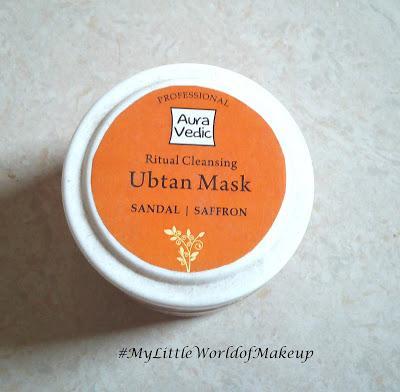 Price: Rs.200/- for 50g. Available online on Amazon
Ingredients:
Ingredients : Extracts of Red Sandalwood, Saffron, Neem, Basil, Bengal gram, Methi seed, Ashwagandha roots, Orange peel, Almond, Nagarmotha, Kapurkachri, Jethimadh, Rose petal powder, Ambe haldi.
Free of Parabens, SLS, Harmful Chemicals & Colours.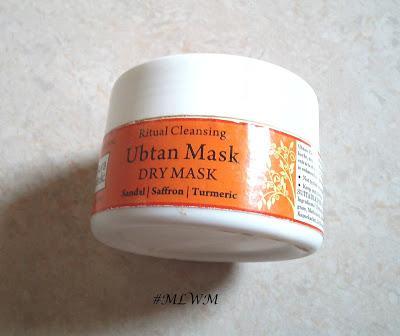 What does the brand say:
Ubtan Cleansing Mask prepared from a traditional formulation of natural herbs, nourishes & leaves skin smooth, radiant & glowing. Natural extracts of Sandal, Turmeric & Saffron ensure that the beauty of the skin is enhanced and nourished.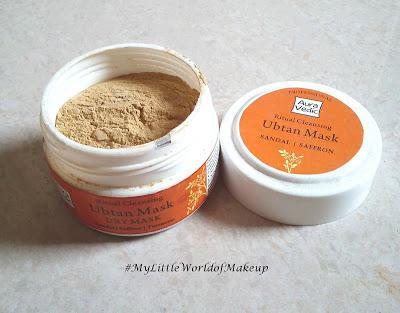 Packaging:
The mask comes in a plastic tub which is white and orange in color.It has a screw lid. To maintain the mask and its  good properties it does come sealed with a foil. All the information is printed on the tub.It is travel friendly and user friendly and can be used by every member of your family.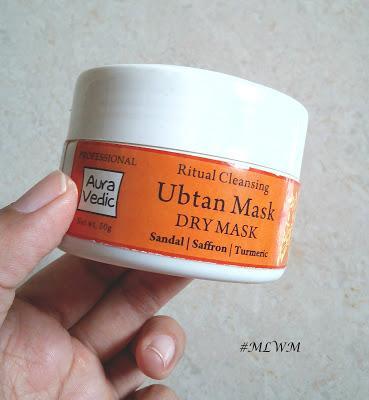 An ubtan in India is essentially meant to be a paste of chickpea flour, turmeric and milk which can be used by anyone to lighten the skin tone, any tanning and have radiant skin. Now a days brands have come up with their own ready to use versions of this ubtan.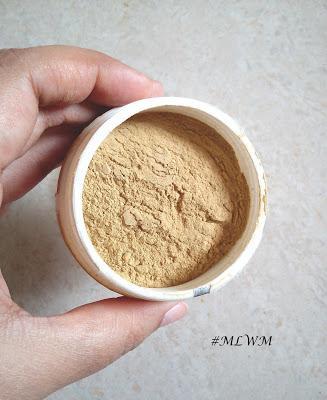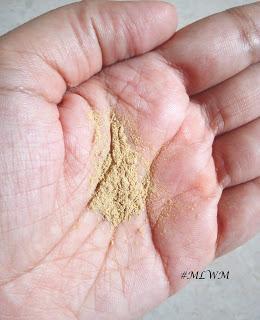 This ubtan comes in a dry form. You can mix it with water/rose water for oily skin and milk if you have dry skin.It smells nice and pleasent due to the presence of sandalwood and saffron which are essentially ingredients for skin lightening and imparting a glow. It feels like a mud pack. You need to let it dry and gently wash the face with water and pat dry. The skin feels nourished, softer and brighter. Sandalwood, saffron and neem are wonder ingredients for the skin. Neem is antiseptic and saffron lightens the skin. Overall there is nothing I can say bad about this product. It is amazing.
The Good:
Easily available online
Inexpensive
Smells amazing
Did not break out my skin
Makes skin soft & supple
Brings a glow to the face
Suitable for all skin types
Travel friendly packaging
The not so Good:
Can't think of any
Rating: 4.5/5
Auravedic Ritual Cleansing Ubtan Mask is a wonderful face mask packed with natural ingredients and free of chemicals. With repeated use the skin feels softer, brighter and supple. I do recommend this product to everyone.
So what you think of Auravedic Ritual Cleansing Ubtan Mask  ??Would you buy it or have you tried it??Do let me know in the comments section. 
Thank you for taking the time to read this post. Hope you found it useful and informative.
Until next time.. Take care xoxo

P.S: PR Sample**