Hello lovelies,
I have talked about this natural skin care brand Auravedic on my blog before if you remember. I had reviewed a face wash and Anti Dandruff hair oil from them. You may check them out as well. Auravedic is a 100% natural and herbal skin care and make products for the skin and hair. Today I am going to review Auravedic Bridal Haldi Skin Lightening Mask in my review which has been liked by many. Let us know in this review how it fared on me. Read on to know more........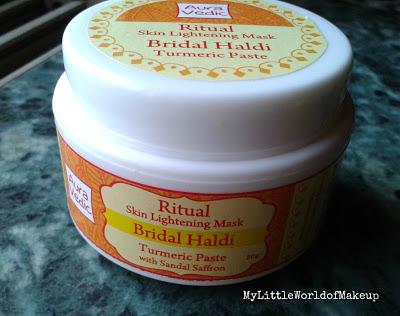 Price: Rs. 150/- for 50g  You may check it out hereIngredients : Extracts of Red sandal, Saffron, Turmeric, Neem, Tulsi, Licorice, Nagarmotha, Amla, Mulberry, Papaya Enzyme, Sorbitol, Potassium Sorbate.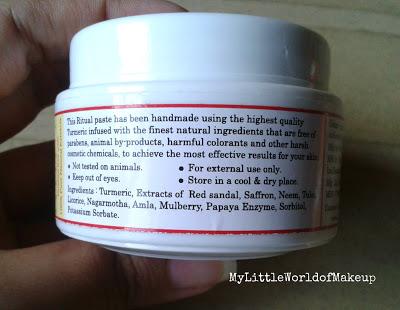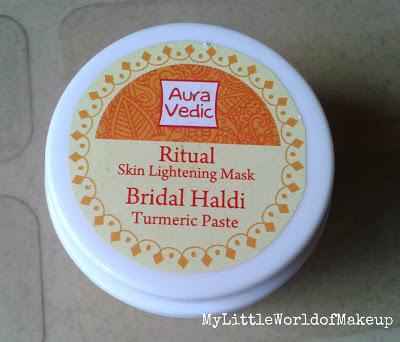 What does the brand say about the product:
Ritual Skin Lightening Mask with Sandal Saffron Turmeric : This gentle facial mask formulated with pure natural actives deeply penetrates the skin to lighten the complexion and clarify dark spots for glowing and radiant skin.
• Sandalwood helps make complexion clearer.
• Turmeric can get rid you of dead cells to give you a glowing and spotless skin
• Saffron helps your skin to be radiant and smooth.
• Neem helps in Clearing Acne & Dark Pigmentation
• The antioxidants present in Tulsi makes you look younger and fresher.• Licorice has been proven time and time again to be an effective anti-inflammatory and moisturizer.
• The antioxidants and vitamin C present in amla juice brighten your skin and impart a natural glow to it
• Mulberries helps to Rejuvenate the skin and by making skin soft and radiant.
• Application of papaya provides shine to the skin, which comes from within and is long lasting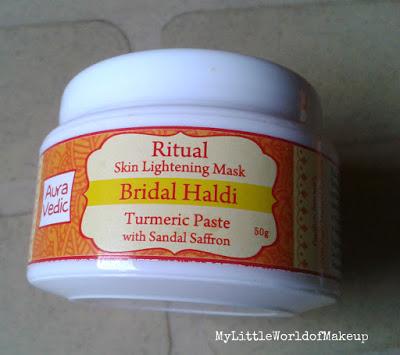 The face pack comes in a white plastic tub with the necessary information printed on it. It is a small tub and is travel friendly. I would have preferred the mask in the tube though that way it is more convenient.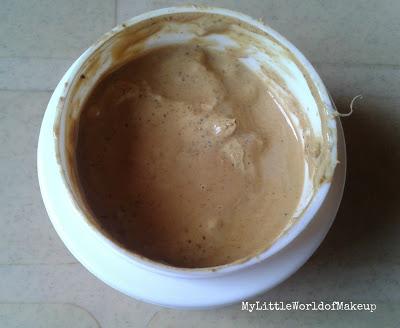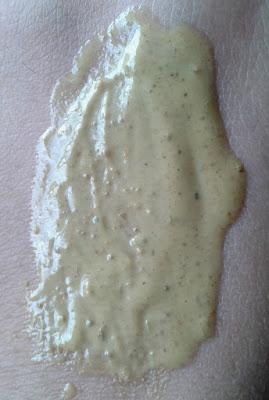 The face pack is a mud pack and is  dirty yellow brown  in color. It does smell amazing with all the goodness of turmeric, saffron and other lovely ingredients which are beneficial to the skin. The pack comes wet hence there is no need to add any liquid. I do apply it for 30 minutes on my face and neck and wash it with normal water and pat dry. There is definitely  adds a glow on the face and the skin looks refreshed and brighter than before. Well I have no plans of marrying yet so I do not know about the bridal glow..hehe but anyone can use it. It is one of the best face packs I have come across and perfect to use by one and all.
The Good:
Easily available online
Inexpensive
Smells amazing
Application is easy as it comes moist
Did not break out my skin
Made my skin a bit lighter with repeated use.
Brings a glow to the face
Suitable for all skin types
Travel friendly packaging
The not so Good:
Can't think of any
Rating: 4.85/5
Auravedic Bridal Haldi Skin Lightening Mask adds a glow, brightens the skin and makes you feel refreshed.With all natural ingredients  I highly recommend this face mask to one and all.
I hope this review was useful and informative to all of you. Please leave a comment with your inputs. New bloggers/visitors leave their links for me to check out.
Until next time.. Take care xoxo

P.S: PR Sample**