New to little Indiana? Subscribe for free to my RSS feed. Thanks for stopping by!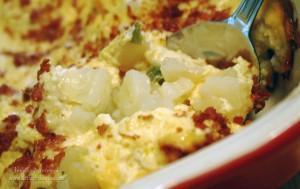 Layered Potatoes Recipe
Aunt Hazel's Potatoes are a family recipe. No holiday was complete without this cheesy goodness! In other words, this is an Easter Dinner staple.
My Aunt Hazel, Hazel Granquist, was born in 1900 and lived to be 94 years old. She loved to cook and bake. She particularly liked to make waffles for dinner.
She was the first person (besides my parents) that I ever read a story to when I was learning to read. I loved listening to my grandma and my Aunts chat in Swedish over coffee every now and again. Enjoy!
Layered Potatoes Recipe
Print Aunt Hazel's Layered Potatoes Recipe
Rating: 51
Prep Time: 15 minutes
Cook Time: 1 hour, 30 minutes
Total Time: 1 hour, 45 minutes
Yield: 10 - 12 Servings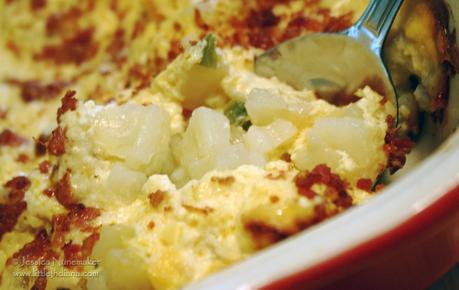 Is this recipe for layered potatoes healthy? Probably not. But I love them just the same.
Ingredients
2# Frozen O'Brien Hash Browns
2 teaspoons Onion, Chopped
1 Can Cream of Potato Soup
1 Cup Sour Cream
1 8 oz Jar Cheese Whiz
1 Jar Bacon Bits
1 Stick Butter
Instructions
Grease 9 x 13 Pan.
Mix together Potatoes and Onion. Pat into pan.
Mix Soup, Sour Cream, and Cheese Whiz. Pour over Potatoes.
Dot with Butter.
Cover with foil and bake 350* for 1 Hour.
Uncover, sprinkle with Bacon, and Bake 30 minutes longer.
Notes
A family recipe.
Schema/Recipe SEO Data Markup by ZipList Recipe Plugin2.0
http://littleindiana.com/2012/03/layered-potatoes-recipe/
Photos are the Property of little Indiana. Do Not Use Without Permission.
little Indiana: Where to Stay, Play, and Eat in Small Towns in Indiana. Discovering Indiana's best small towns! Now get little Indiana on your Kindle.
Targeted. Relevant. Affordable! little Indiana advertising.