Lots of Unearthed After Sunset updates this month! I can't wait to share them with you all. I have a release date picked and I'm planning a blog tour! As I've gotten into publishing and marketing mode I haven't been reading much. But, I have some awesome books I added to my TBR list last month so I'll be getting back to reviewing soon.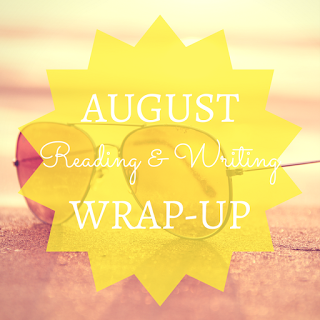 READING:

Books Reviewed in August:
I didn't review ANY books in August. *Gasp* But, I'll have one posted for The Gunslinger soon.
Books Read in August:
I finished reading The Gunslinger (The Dark Tower #1) by Stephen King. I liked it but didn't love it. The review will be coming soon.
Books to read in August:
I just downloaded The Woman in Cabin 10 by Ruth Ware and I plan to finish that before the end of the month. I've been in the mood for another suspense/mystery novel.
I also added Behind Closed Doors by B.A. Paris to my TBR list.
WRITING:
OCTOBER 15th is the official release date for Unearthed After Sunset. I've already been giving away ARC's (and am willing to hand out more - e-mail me at

[email protected]

if you're a blogger who's interested). I'm also planning a blog tour and to give away some signed paperback copies of the book. I have spaces available for the tour still. So, stay tuned, more goodies are coming.
BLOGGING:
August was a busy month as I started preparing for the release of Unearthed After Sunset. I know my posts were a lttle skimpy. I did an author interview this month, which is not something I normally do on my blog. You'll see a few more of those in September. My plan is that while I'm trying to promote my indie book, I'm going to promote some other indie authors and pay it forward.
My Favorite Blog Posts in August:


Favorite Post Written:

5 Profound Book Quotes. I wrote this post as I was thinking about the different books that have inspired me in one way or another, and I had five quotes that have stuck in my head. Reading can take us to new places and also open our eyes to things in our own world.
Favorite Post Read: 10 of the Weirdest Things about the Online Life of a Book Blogger, I loved this post not only because it looked at what it's like to be a book blogger, but also about how the internet has changed how we interact with people.
PERSONAL:


My best friend had a baby! That was pretty crazy and exciting. My husband has been practically living in our backyard as he works on this garage. Oh, and I've just now started studying Italian for my Honeymoon/Anniversary Rome trip at the beginning of October. So, I gotta cram on that. 




How was your August?