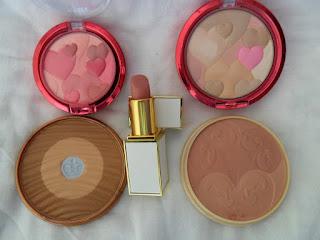 Tom Ford Pink Dusk lipstick - I've wanted this for ages and thanks to the generosity of two very lovely ladies, I finally have it. It's everything I hoped it would be and I absolutely love it.
Physician's Formula Happy Booster Blush - This has love hearts all over it, what more is there to say?
Physician's Formula Happy Booster powder - I find this to be such a versatile powder. I use it as a blush, face powder and eye shadow, which makes it great for when I'm in a hurry.
Rimmel Match Perfection blush - This is new to my collection and I really like it. I got the shade Light, which is ideal for my pale skin.


Rimmel Match Perfection bronzer - I'm a bronzer phobe, I just can't seem to get the application right. This however, is perfect. It's sheer so applies lightly and gives me a healthy flush of color.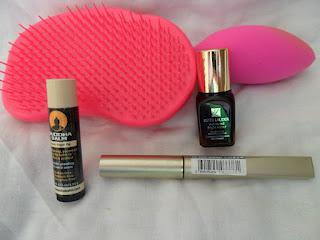 Tangle Teezer - I saw this on Nat's blog and knew that I needed it, because we always like the same things. She was right, it's amazing. I've only been using this for a few days but I am losing so much less hair then when I use a regular hairbrush. I've also noticed that my hair doesn't seem to be falling out as much as it usually does.
Buddha Balm Burnt Sugar Fig lip balm - This is the strongest tasting lip balm I've ever used. Since I'm all about flavoured lip products, I love it. Added to that, it's very hydrating and has been keeping my lips hydrated in the freezing weather we've been having.
L'oreal Super Liner liquid eyeliner - This has a soft felt tip applicator which makes it easy to use, it gives a  lovely fine line and has a really pretty shimmer to it. 
Estee Lauder Advanced Night Repair - I've been using this for a few weeks now and my skin feels so soft and smooth.