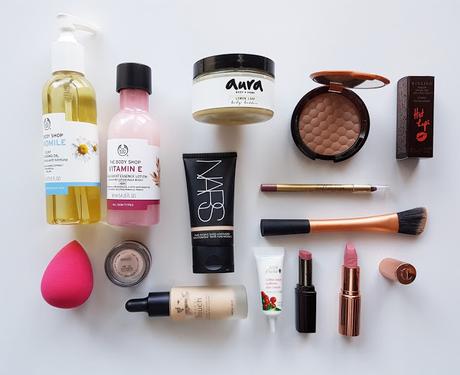 The Body Shop Chamomile Cleansing Oil - I picked this up during the make-up and skincare promotion and it was love from first use. I've been alternating between this and the cleansing butter, they'r

e both wonderful.
The Body Shop Vitamin E

Aqua

Boost Essence Lotion - If you are fan of the Clarins HydraQuench Bi-Phase Serum, you need to give

this a go. It's very similar and a lot cheaper.
Aura Lemon Drop Body Butter - I won a competition on Instagram and received a gorgeous package of Aura products. I've been using the Lemon Drop Body Butter on my scaly winter skin and it's been working wonders. An added bonus is the gorgeous lemon meringu

e scent. 
The Body Shop Honey Bronze Bronzing Powder - It's taken me forever but I've got the hang of applying bronzer and I'm loving the healthy glow it gives me. Honey Bronze in shade 1 is

perfect for my pale skin.
Max Factor Color Elixir lip pencil in

Mauve Moment - This is the exact color of my lips. 
Real Techniques Foundation Brush - I

finally got the hang of using bronzer thanks to this brush. It's perfect.

 
ModelCo Magic Makeup Blender - Just as good as the Beauty Blender but a fraction of the price, especially if you pick it up on sale at Woolworth.
MAC Painterly Paint Pot - An oldie but a goodie. This is a great base color or eye brightener for people with pale skin.
Nars Pure Radiant Tinted Moisturiser - This featured in my first Foundation Files post which you can read here. I'm loving this for those days when I want to look fresh but don't have the time to apply proper foundation. I just swipe this on with my finger

s and I'm good to go.
Younique Touch Liquid Foundation - This could very well be my holy grail foundation. The coverage is brilliant and it lasts all day.
100% Pure Coffee Bean Eye Cream -OMG this smells amazing! I'd love a lip balm that smelled

the same, it's such a gorgeous scent.
Laura Mercier Lip Parfait - It was love at first application. Hydrating, creamy, opaque color with one swipe. What's not to love

?
Charlotte Tillbury Hot Lips

Lipsticks

- These are perfection. From the beautiful packaging to the embossed bullet to the product itself, they're just perfection.