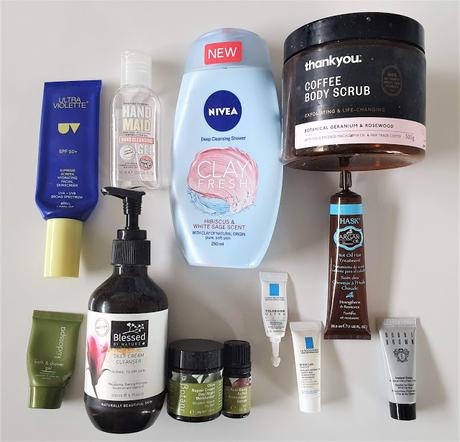 Ultra Violette Supreme Screen
Ultra Violette have been getting a lot of hype on social media. They've done a great job of their marketing. After all the hype I had to try it for myself to see if their products really are as amazing as people claim.
After using the entire tube I've reached the conclusion that whilst it's a nice product it's no better than La Roche-Posay Anthelios and Mecca Cosmetica To Save Face, both of which are significantly cheaper.
Personally I prefer La Roche-Posay, purely because it doesn't irritate my eyes.
I'm glad I tried Ultra Violette but I won't buy it again, it's over hyped and over rated. 
Soap and Glory Hand Maid
This winter I've been obsessively using hand sanitiser in an effort to prevent us getting the flu. One of my all time favourites is Hand Maid. It smells beautiful and doesn't dry out my skin.
The bottle costs $4 and lasts for ages. I've already got another one on the go. 
Nivea Clay Fresh Shower Gel
The texuture of this was interesting, rather clay like (funny that) and a little gritty. It felt very strange to wash myself with it, mainly because it's quite thick. Overall it's a nice shower gel, it smelled pleasant and if I wasn't switching to plastic free I'd probably buy it again.
Thankyou Coffee Body Scrub
I've gone through so many of these, I'm sure regular readers have had enough of hearing about it. If you like coffee scrubs this is a great one. The Geranium and Rosewood scent is lovely, it's non greasy and gives a great scrub. I pick up a tub every time I find it on sale. 
Kudos Spa Bath and Shower Gel
Tiger picked this up from a hotel somewhere. I don't know why he insists on keeping hotel shower products, they're usually mediocre. This one was okay.
Blessed by Nature Deep Cream Cleanser
I usually love cream cleansers however I found this one to be slightly irritating. It stung my eyes and irritated my skin. The irritation wasn't severe, there was no redness or rashes, it just stung and tingled.
Botani Olive Repair Cream
Many years ago I used and loved Botani products, then I moved and they weren't available locally. To my delight I've recently found them at my local Priceline and I was also sent a few products to review (this was one of them). I've long loved the Olive Repair Cream, it's super hydrating for dry, dehydrated winter skin. I'm waiting for a sale to repurchase.
Botani Acai Berry Active Antioxidant Serum
I hadn't used this before but I'll definitely purchase it again. It has a beautiful berry scent, is very hydrating and quickly absorbed. Since I stopped using it my skin texture is worse, it feels rough and has dry patches. This is another product I'll be repurchasing. 
La Roche-Posay Toleraine Ultra
I've fallen in love with LRP products, they're my new favorite skin care brand. The products have been an absolute miracle for my allergy skin. I've never found anything that soothes and heals my skin as quickly as LRP products do. The Toleraine Ultra is a heaven sent for dry, irritated skin. It's super hydrating, non greasy and quickly absorbed. I've already purchased a full sized version and will never be without it.
La Roche-Posay Effeclar Duo
Whilst this isn't suited for my skin type (it's for blemished skin) I'm considering buying it because of how smooth it made my skin feel. I used it at night time and woke up to soft, smooth skin with no rough texture. It tingles pleasantly upon application for a few minutes then the tingling is gone.
Hask Argan Oil Hot Oil Hair Treatment
Last time Priceline had their haircare sale I went shopping with my bff. She has dry hair so picked up several of these and I copied her. I used these years ago and had forgotten how silky smooth they make my hair feel. I'll be repurchasing them again soon. 
Bobbi Brown Instant Detox Face Mask
Meh. I wasn't fussed with this mask. It was okay.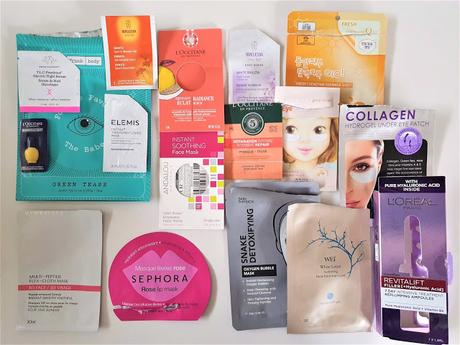 Drunk Elephant TLC Framboos Glycolic Night Serum
I have a little tube of this sitting in my drawer that I haven't bothered using, but after using the sample sachet I'm going to dig it out. I used this one night and woke up with noticeably soft, smooth skin. I'd love to see what the results would be after using it for a few months. 
Frank Body Green Tease
Frank Body scrubs never disappoint. I always have a few of them on rotation. The Green Tease scent was lovely, fresh and gorgeous. 
L'Occitane Immortelle Reset
I liked the way this made my skin feel but at $95 I won't be purchasing it anytime soon.
Weleda Arnica Sports Shower Gel
As per usual, I can't really tell what I thought of this shower gel as it was only a sample satchet. It seemed rather oily but that's about all I can say. 
Elemis Peptide4 Thousand Flower Mask
As I slowly make my way through my face mask stash I've come to realize that I don't like sheet masks, I much prefer cream masks. The Elemis Peptide4 Thousand Flower Mask smells beautiful and left my skin feeling wonderfully soft. I'll definitely consider buying the full size of this once I've gotten through my current stash. 
L'Occitane Radiance Scrub
L'Occitane have recently released quite a few new skincare products and the Radiance Scrub was one of them. It's nowhere near scrubby enough for me, however it smelled nice and was pleasant to use. 
Andalou Naturals 1000 Roses Face Mask
I have a full sized tub of this and really enjoy it. I'm not sure how I got a sample of it, but it's one I'm happy to use. I find this great for soothing 
Weleda White Mallow Face Cream
Whilst I'm constantly saying that a sample sachet isn't enough for me to decide if I like a product, White Mallow Face Cream is the exception. My skin felt so lovely after I used this that I ordered a full size straight away. 
L'Occitane Intensive Repair Face Mask
I can't say I noticed any intensive repairing, but perhaps I didn't really need intensive repair. I did have soft, hydrated skin and the dry patches were almost gone, so that's a good result. 
Etude House Collagen Eye Patch
These were quite dry and didn't feel like they did much.
Co-enzyme Q10 Mask Sheet
This stung my skin so I only wore it for five minutes before I had to take it off.
Skin Physics Collagen Hydrogel Under Eye Patch 
I think these are my favorite eye masks. They stick well so I can walk around whilst I'm using them, they're cooling and soothing and they brighten my eye area. I like to use them in the morning before I put my make-up on. 
Skinvitals Hydraflex 3d Face Mask
This was really unique because it also covers your neck. I've never used a mask that covers my neck before. 
It was lovely to use and left my skin looking plump and feeling very soft. If I knew where I got it I'd buy it again.
Sephora Rose Lip Mask
I really don't think these do anything but they look funny wuen I use them and they're cheap so I buy them when I need to add a few $$ worth of products to get free shipping. 
Skin Physics Snake Detoxifying Oxygen Bubble Mask
After seeing bubble masks all over Instagram I was itching to give one a try. I've now used two of them and I must be doing something wrong because they just don't foam up on me. I've followed the instructions but I only get minor bubbling in a few spots. How disappointing. Despite that, I liked the way this made my skin feel (soft and smooth),  I'd buy it again. 
Wei White Lotus Hydrating Face Mask
Oh this was truly lovely. It felt so beautiful on and the material was thick so I found it easier to put on. I have no idea where I got this from so I probably won't repurchase, however if I came across it in my travels I would. 
L'Oreal Revitalift Filler+ Hyaluronic Acid
I received these to trial for Beauty Crew. It's not the sort of product that I'd buy so it was great that I got to try it out. These cost $49.95 for what is supposed to be a 7 day supply, which is a little expensive in my opinion. Having said that, 1 ampoule contains enough for two applications and if it was used as a weekly deep hydration treatment it's probably worthwhile.
I didn't get amazing results other than a great hit of hydration. I think it'd be great as a weekly treatment for winter dry skin.