This photo is of the I-35 bridge, and the celebratory rainbow pattern of lights when gay marriage became law in Minnesota.  The lights are part of the replacement bridge for the one that collapsed on August 1, 2007.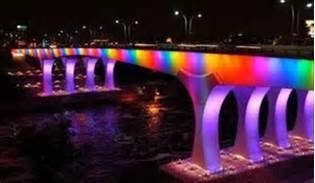 Today, August 1st, we are more free in Minnesota. We have recognized the civil liberties of same sex individuals to marry, and form families. It shows we are better than those states which do not do so, states which are willing to treat people as second class citizens on the basis of an ill-informed, and factually deficient religious bias that makes equally unfounded claims about both God and nature. Minnesotans have pushed back against the conservatism that gives empty lip service to liberty, but tries in so many ways to deny liberty to so many.
Minnesota has ended legalized religious bigotry.
Hooray for Minnesota! Congratulations to those who began exercising their new legal recognition, beginning at the stroke of midnight. 
Today is also a day on which to note that while we have corrected a sad deficiency in civil liberties, we have not yet corrected serious deficiencies in our infrastructure, despite this being the 6th anniversary of the August, 2007 collapse of the I-35 bridge. Instead foolish Tea Party conservatism that is penny wise - or just cheap - and pound foolish has consistently failed to acknowledge that infrastructure maintenance and expansion is a necessary and wise investment in government spending that more than pays for itself in benefits to tax payers many times over beyond the original spending.  Instead we have the kind of obstructionist policies and philosophy which seeks only to privatize and to obstruct progress.
In Minnesota, 1 in 10 bridges is in need of repair, some of them very seriously so; nationally the number is 1 in 9.  A
2011 report
by Senator Al Franken details these bridges county by county in Minnesota (good work Senator Al!)  Grant County had only 3 deficient bridges, but Hennepin County has 842, St. Louis County 682, and Ramsey County, 317.  The low number of deficient bridges in Grant County is not surprising; the 2012 census shows there are only about 6,000 people there, and unlike other parts of Minnesota, 5% is water and 95% is land.  But I-94 does run through it, along with one or two US highways and a handful of state highways.  Our state motto, 'land of 10,000 lakes', is too modest; the actual number is 11,842 lakes, and we have 6,564 lakes and streams; so we have a lot of water over which we need those 13,000+ bridges that are deficient.  If you want to check how many deficient bridges you might be traveling over, the list by county is below.
Our population has grown, our industry has grown, but for the most part, there has been little new road and bridge building since the 1956 vision of President Eisenhower when he initiated the design and construction of our interstate highway system.
CountyNumber of bridgesNumber of structurally deficient bridgesPercentage of bridges that are structurally deficientBridge average annual daily trafficAverage annual daily traffic on deficient bridges
Aitkin County 100 12 12.00% 112,710 2,508
Anoka County 138 4 2.90% 2,662,439 25,376
Becker County 52 6 11.50% 63,138 637
Beltrami County 92 5 5.40% 117,332 5,672
Benton County 115 3 2.60% 239,478 93
Big Stone County 15 1 6.70% 12,889 4,200
Blue Earth County 191 6 3.10% 561,765 3,078
Brown County 111 9 8.10% 90,845 2,469
Carlton County 134 18 13.40% 417,615 15,174
Carver County 115 17 14.80% 692,895 44,211
Cass County 77 2 2.60% 119,543 3,840
Chippewa County 122 17 13.90% 82,332 3,794
Chisago County 58 5 8.60% 183,830 6,170
Clay County 227 22 9.70% 476,996 4,329
Clearwater County 49 3 6.10% 22,854 2,991
Cook County 49 7 14.30% 44,775 560
Cottonwood County 150 12 8.00% 53,876 4,125
Crow Wing County 69 3 4.30% 155,800 269
Dakota County 237 2 0.80% 3,032,938 32,625
Dodge County 169 8 4.70% 148,770 8,929
Douglas County 41 4 9.80% 146,903 29,150
Faribault County 222 28 12.60% 123,658 6,539
Fillmore County 336 51 15.20% 159,136 14,740
Freeborn County 141 6 4.30% 427,934 1,433
Goodhue County 323 27 8.40% 607,160 33,251
Grant County 32 3 9.40% 91,258 1,216
Hennepin County 842 48 5.70% 17,452,513 491,462
Houston County 160 29 18.10% 201,122 3,858
Hubbard County 41 7 17.10% 52,981 3,965
Isanti County 37 2 5.40% 80,517 2,680
Itasca County 159 13 8.20% 194,970 3,577
Jackson County 190 23 12.10% 95,999 2,530
Kanabec County 78 0 0.00% 80,844 0
Kandiyohi County 88 5 5.70% 139,923 1,146
Kittson County 159 9 5.70% 33,075 2,414
Koochiching County 94 4 4.30% 45,990 180
Lac qui Parle County 169 13 7.70% 38,206 2,240
Lake County 77 5 6.50% 87,697 7,543
Lake of the Woods County 61 1 1.60% 25,815 784
Le Sueur County 67 3 4.50% 105,693 4,543
Lincoln County 102 20 19.60% 47,869 986
Lyon County 233 9 3.90% 161,953 3,185
Mahnomen County 41 2 4.90% 13,371 14
Marshall County 215 15 7.00% 46,546 1,908
Martin County 161 12 7.50% 225,036 3,002
McLeod County 75 5 6.70% 124,120 2,961
Meeker County 62 1 1.60% 49,180 24
Mille Lacs County 108 5 4.60% 293,803 13,135
Morrison County 167 11 6.60% 229,682 2,214
Mower County 327 77 23.50% 330,010 68,466
Murray County 129 8 6.20% 29,872 350
Nicollet County 48 3 6.30% 138,823 8,199
Nobles County 300 8 2.70% 160,479 1,151
Norman County 151 16 10.60% 40,939 6,624
Olmsted County 351 16 4.60% 1,755,790 33,349
Otter Tail County 146 15 10.30% 280,513 15,480
Pennington County 51 2 3.90% 49,866 6
Pine County 162 11 6.80% 273,537 27,782
Pipestone County 177 39 22.00% 70,607 5,740
Polk County 259 10 3.90% 147,285 1,481
Pope County 44 2 4.50% 17,259 3,345
Ramsey County 317 27 8.50% 7,890,402 987,272
Red Lake County 58 2 3.40% 22,616 1,977
Redwood County 194 34 17.50% 103,739 10,470
Renville County 136 27 19.90% 64,087 3,311
Rice County 142 10 7.00% 563,252 21,517
Rock County 251 33 13.10% 184,989 17,300
Roseau County 137 20 14.60% 64,204 682
Scott County 102 4 3.90% 1,017,301 3,193
Sherburne County 46 4 8.70% 237,302 26,022
Sibley County 102 27 26.50% 95,987 9,266
St. Louis County 682 100 14.70% 2,118,740 150,948
Stearns County 216 3 1.40% 1,144,503 866
Steele County 128 7 5.50% 502,158 10,439
Stevens County 45 0 0.00% 23,997 0
Swift County 97 16 16.50% 42,246 3,837
Todd County 131 9 6.90% 100,418 4,553
Traverse County 120 10 8.30% 15,553 654
Wabasha County 147 7 4.80% 148,170 6,406
Wadena County 70 3 4.30% 46,897 1,125
Waseca County 75 8 10.70% 50,488 3,779
Washington County 96 6 6.30% 1,603,385 96,974
Watonwan County 167 6 3.60% 93,330 1,331
Wilkin County 197 13 6.60% 69,604 2,102
Winona County 223 20 9.00% 494,923 30,257
Wright County 72 5 6.90% 488,524 56,560
Yellow Medicine County 220 18 8.20% 96,494 1,487
Totals 13,067 1,149 8.80% 51,254,063 2,436,031