Augmented Reality picture books are the next generation of Pop-Up App books for children, and Dawn Publications is at the forefront of this trend. Dawn has taken ordinary pages of a picture book and made them come alive with 3-D animated images.
This isn't to be confused with a book app. This is actually utilizing the physical book and turning it into a 3-D interactive experience while it reads you the story. We didn't have a name for this new technology, and we wanted to distinguish it from a book app, so we called it a "Pop-Up App."
A Touch of Digital Magic
Dawn's digital artist, Malachi Bazan, discovered Augmented Reality (AR) software and decided to see if he could program it to work with picture books. He said, "We've seen this technology used in other applications, but never with children's books. I simply had to try it and see if it would work." Malachi, who has extensive experience as a character modeler for Hollywood movies and has done major video games for Sony, was able to make it become a reality. One day he just came into the office and showed us how a page in one of our picture books could literally "pop-up" on the page and become a 3-D image. Not only that but he could make the animals move about on the page and add sound. We were all in awe at the possibilities!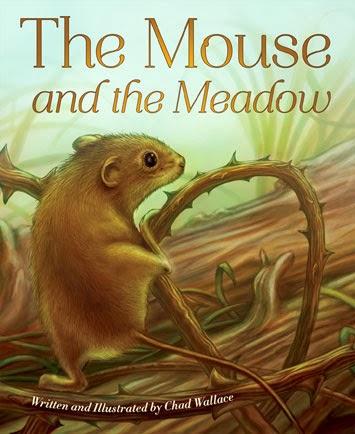 Dawn Publications has programmed Augmented Reality to use with our new Spring 2014 book, The Mouse and the Meadow, in which a young mouse quickly comes of age as he sets out to explore his meadow. There he meets many remarkable creatures. Spider has tangled intentions. Firefly really knows how to put on a show. Mother rabbit is kind. Turtle is wise. Others would have him for lunch! Fortunately, help arrives just in time.
How It Works


You take the picture book, Pop-Up The Mouse and the Meadow, and scan the QR code on the back of the book. That takes you to a web page with a demonstration and instructions to download the AR app for FREE from iTunes. Once the app is loaded on your Android or iOS device, you hover the device over the book, and it will start reading the story. Simply move the iPad, iPhone or Android over the page of the book and watch as the Meadow Mouse and other creatures pop up off the page! If you touch the animals on the device, they magically move around on the page and interact with each other.
Making Books Come Alive!
Augmented Reality adds graphics, sounds, feedback and smell to the natural world as it exists. Augmented reality is changing the way we view the world -- or at least the way its users see the world. Being a children's book publisher since 1979, Dawn Publications recognizes that parents and educators are aware of the need for today's kids to be interactive with their books. Ebooks and apps are a great start, but Augmented Reality takes it to the next level of fun. We're aiming at engaging children to read, always trying to make this a fun and enjoyable activity, with the intention to pass on to children the love of books and reading. This just adds to the experience!
The First Experience with the Public
Dawn Publications had a visit from a school with 30 parents and kids of all ages. We all took turns describing what we did as publishers, from editor, creative director, authors, illustrators, marketers and such, but when we went to our digital artist, you could hear a pin drop! They were in amazement as they watched images magically pop-up from the book. Each child wanted to take a turn with the iPad to touch the animals and make them scatter across the page. Parents were delighted that their children wanted real books, and to combine it with technology was brilliant.
Where Do We Go from Here?
This is just the tip of the iceberg for us. Dawn Publications intends to turn other books into Pop-Up Apps using AR technology. Now that illustrators are turning to digital art, this is making the possibility of future books and technology a perfect marriage.
About Dawn Publications and Simply Nature Media
Dawn Publications, www.dawnpub.com, is a nature niche publisher since 1979, specializing in connecting children and nature through quality books that inspire a deeper understanding and appreciation for all life on Earth. For more information, contact Sandy Philpott, [email protected] Malachi Bazan, through Simply Nature Media, has joined forces with Dawn to develop inspiring and educational products in digital format. He can be reached at [email protected]