Title: Liar Temptress Soldier Spy: Four Women Who Changed the Course of the Civil War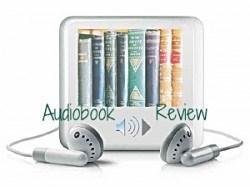 Author: Karen Abbott
Narrator: Karen White
ISBN: 9780062332165
Audiobook Length: 15 hours, 14 minutes
Genre: Nonfiction
Origins: Mine. All mine.
Release Date: 2 September 2014
Synopsis:
"Belle Boyd
Emma Edmonds
Rose O'Neal Greenhow
Elizabeth Van Lew

In Liar Temptress Soldier Spy: Four Women Who Changed the Course of the Civil War, bestselling author Karen Abbott tells the spellbinding true story of four women who risked everything—their homes, their families, and their very lives—during the Civil War.

Seventeen-year-old Belle Boyd, an avowed rebel with a dangerous temper, shot a Union soldier in her home and became a courier and spy for the Confederate army, using her considerable charms to seduce men on both sides. Emma Edmonds disguised herself as a man to enlist as a Union private named Frank Thompson, witnessing the bloodiest battles of the war and infiltrating enemy lines, all the while fearing that her past would catch up with her. The beautiful widow Rose O'Neal Greenhow engaged in affairs with powerful Northern politicians, used her young daughter to send information to Southern generals, and sailed abroad to lobby for the Confederacy, a journey that cost her more than she ever imagined. Elizabeth Van Lew, a wealthy Richmond abolitionist, hid behind her proper Southern manners as she orchestrated a far-reaching espionage ring—even placing a former slave inside the Confederate White House—right under the noses of increasingly suspicious rebel detectives.

Abbott's pulse-quickening narrative weaves the adventures of these four forgotten daredevils into the tumultuous landscape of a broken America, evoking a secret world that will surprise even the most avid enthusiasts of Civil War–era history. With a cast of real-life characters, including Nathaniel Hawthorne, General Stonewall Jackson, Detective Allan Pinkerton, Abraham and Mary Todd Lincoln, and Emperor Napoléon III, Liar Temptress Soldier Spy: Four Women Who Changed the Course of the Civil War shines a dramatic new light on these daring—and, until now, unsung—heroines."
Thoughts on the Novel: No matter what men might think, women have always been and will always be the driving force behind any major victory – military or otherwise. In Liar Temptress Soldier Spy, Karen Abbott highlights four examples of this fact. These women range in age from seventeen to forty-something and come from varying walks of life. Yet they all distinguish themselves with their courage and willingness to ignore social expectations of its females.
These four women did not necessarily do anything totally extraordinary during a time of war. What makes their efforts so impressive is that they did so during a time when women were considered to be completely inferior and therefore totally incapable of things like spying or setting up one of the largest espionage rings in the Confederacy. This society never dreamed that women would want to fight for their country outside of their homes and therefore could not fathom women soldiers. Women were to be trusted and never duplicitous, making it a bit too easy for Belle and Rose to use seduction to elicit secrets that would help their cause. It is a thought process that does not seem as unfathomable today as it perhaps should.
Ms. Abbott has obviously done her homework on her four subjects because she presents their stories with many primary sources, incorporating them seamlessly into the narrative. The trend of fictionalized nonfiction works particularly well in this scenario when the scenes and the expectations for women are so entirely foreign to modern readers. Ms. Abbott is able to make her point without having long expository sections as she is able to incorporate any necessary explanations directly into the ladies' story lines. As such, the book reads like a good fiction novel, complete with heroes and villains while the primary source material confirms the validity of the stories.
What struck me the most about the four women is how much things have changed. While women continue to struggle with equal pay and equal rights when it comes to things like healthcare and justice, it is always a good thing to remember how things used to be for women. This is important not to convince women to stop the fight but to motivate them to continue to push for equality. Stories like the ones in Liar Temptress Soldier Spy reiterate how capable women are of accomplishing everything men can. These stories even show that women may have more weapons at their fingertips in order to meet their goals. If one gets tired of the constant barrage of headlines about the lack of justice for rape victims or unequal pay for equal work, reading something like Liar Temptress Soldier Spy is a perfect anecdote.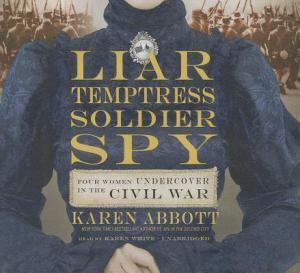 BOTTOM LINE: A fascinating look at women who refused to be defined by society's mores.
Thoughts on the Audiobook: Karen White does an excellent job, as always, with her narration. She excels at embodying the ladies and portraying their strong personalities. She manages to distinguish between the slight variances in accent that location would cause; she is also able to modulate her voice to accommodate for the age and educational differences among the four women. Ms. White is even able to modify her characterizations to bring out their differences in social milieu as well. Through all of this, she brings the ladies back to life with her performance and makes it easier to modern readers to empathize with their dangerous situations. The entire novel is entertaining, but it is definitely made more so through Ms. White's narration.












Comments
Related Stories
Book Review – The Rest I Will Kill by Brian McGinty
Book Review – We Should All Be Feminists by Chimamanda Ngozi Adichie
Audiobook Review – The Partly Cloudy Patriot by Sarah Vowell