Title: Beautiful Disaster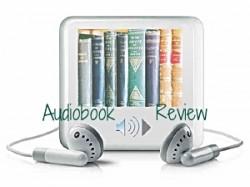 Author: Jamie McGuire
Narrator: Emma Galvin
ISBN: 978-1-4703-4868-7
Audiobook Length: 10 hours, 30 minutes
Genre: Fiction; Young Adult
Origins: Recorded Books
Release Date: 31 October 2011
Bottom Line: I LOVE this sexy and touching story!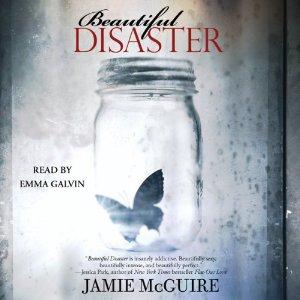 Synopsis:
"The new Abby Abernathy is a good girl. She doesn't drink or swear, and she has the appropriate number of cardigans in her wardrobe. Abby believes she has enough distance from the darkness of her past, but when she arrives at college with her best friend, her path to a new beginning is quickly challenged by Eastern University's Walking One-Night Stand. Travis Maddox, lean, cut, and covered in tattoos, is exactly what Abby wants—and needs—to avoid. He spends his nights winning money in a floating fight ring, and his days as the ultimate college campus charmer. Intrigued by Abby's resistance to his appeal, Travis tricks her into his daily life with a simple bet. If he loses, he must remain abstinent for a month. If Abby loses, she must live in Travis's apartment for the same amount of time. Either way, Travis has no idea that he has met his match."
Thoughts: Beautiful Disaster is a very emotional story; any narrator must be able to convey the wide swings among all of the characters. Emma Gavin does a great job with this. Her character performances are subtle but distinguishable from each other. More importantly, she delicately expresses Travis and Abby's torturous relationship, its highs, middles, and lows. Her voice for Abby is deceptively perfect; the raspy edge to it is a great hint at her shadowy past. Meanwhile, her Travis voice is loud and confident, something that oozes from Travis' every action and word. Together, she shows just how messily perfect they are for each other, enhancing their story in all the right spots.
Beautiful Disaster was enjoyable the first time, but there is a special something to the audio performance that forces listeners to pay attention to every nuance of their relationship and not just skip ahead to the good bits. The careful scrutiny of the story in turn allows readers to get inside Abby in a way that is difficult to do when reading the print version. As a result, Travis' and Abby's story has more meaning and more fire and passion. Beautiful Disaster is an excellent story in print, but to listen to Abby's words as spoken by Ms. Gavin makes the entire novel shine that much brighter.