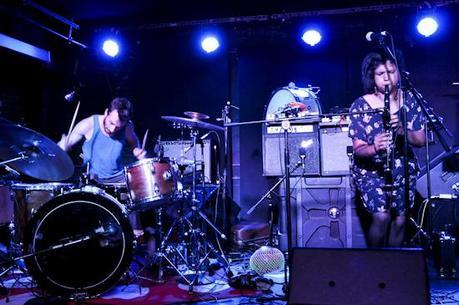 Photo Credit: Lexi Namer
It's hard to describe what amazing musicians AU (@autheband) are — you have to see it for yourself. Unfortunately, there weren't many people experiencing the jaw-dropping musicianship at Mercury Lounge's early show on Thursday evening, with the room nowhere near as full as it often gets for the late night shows. Still, the fans that showed up for Portland based AU and Tu Fawning (@tufawning) were treated to a great night of music.
When the three-piece went on at 7, there were maybe 20 people filling out the audience. Luckily, more people joined as the set went on. AU played with energy regardless (their music simply demands it), and the crowd, who even demanded an extra song after they played their time, reciprocated the amount of joy they exuded. With a drummer that plays so fast and efficiently it looks like he has 8 arms, a singer whose voice emits more power than any woman twice her age and a keyboardist whose hands blur when he plays, it's only natural you would want to see more. AU makes incredible music, and incredibly, it translates live.
The evening ended with the smooth and lovely pop of Tu Fawning, another Portland based group. Their calmer and mellower set was a perfect end to a night of fantastic music.