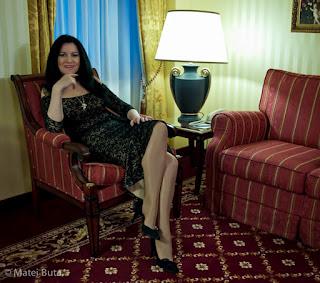 Photo @Matei Buta
Today Mediafax (a Romanian press agency) released
this interview
 with Angela Gheorghiu. Short questions, long answers. It's in Romanian, so Google translate might be very useful. 
*she won't say "no" to a recital with Renee Fleming and Anna Netrebko.
Lately I found out about Met Opera general manager's idea, a concert with three sopranos, with Renee Fleming and Anna Netrebko. They are still not sure about this. None of them wanted to get involved. One of them said maybe, the other.... I won't say who said what. I said "Ladies, whoever, whenever". I like these things
.
And there's a short note published today in Adevarul:   
Read tomorrow in Adevarul Weekend: Interview with soprano Angela Gheorghiu about the sensuality of the voice, the emotion that influences the modern technology, about perfectionism and about life nowadays in her home town, Adjud
. Pay a visit at the newsstand on Saturday morning to get the paper version of the newspaper (if you live in Romania).
I sense there's more to come. Sorry guys, everything is in Romanian. But if there's new stuff in any of the materials, you'll find it here.