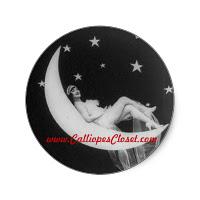 Attention All Participants of Calliope's Closet 
Please note:  We are in the final stages of updating our new site and taking it to a whole new level. You will notice some profound changes to the site and we now have more room to grow & expand, which will allow us to offer more content for our readers, contributors and visitors. This is an enormous opportunity for all of us, but we need your help.
In the past few weeks, we have sent out emails to artisans asking for updates on their crafts and creations, as well as bios and pictures from authors who will be featured on the site. To date, we still have not received several responding emails to our requests for these updates and information. We are delighted to have so many wonderful artisans participating and we want to support you, but we also have to keep our site current and new.
Because we are anticipating the launch of the new and improved website by the end of this upcoming weekend, we kindly ask that you respond to our requests for updates in a timely manner. Unfortunately, we won't have any other choice but to take your work off the site without proper acknowledgment of these requests. We simply do not have the time to send out repeated requests for bios, photos or updates of your artistry, nor do we have the time to wait on your response. Our effort is to help support you, but we can't do that without your participation. Please, don't miss out on this opportunity to have your work featured on Calliope's Closet! Exciting things are happening!
So, if you have received an email or message with a request from us, please make sure you respond as soon as possible. We would hate to have to take down your information, site and/or work simply because you haven't responded. It would be a tremendous loss for all.
We thank those who have responded to our requests so promptly and thank those who have not yet responded for your anticipated cooperation!
~Alicia and Apryl