Rich, delicious and basic Indian sweet dish - made out of

atta

or whole wheat flour with plenty of sugar and ghee. This

halwa

or sweet dish is prepared in every household in India. Very easy to make and great in taste. With a few basic ingredients you can try this any time. Let's get started.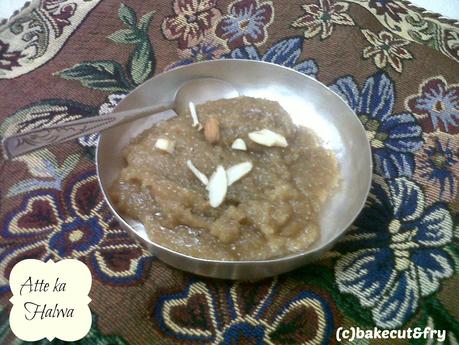 Servings : 4 persons
Preparation and cooking time : 15-20 mins
Ingredients :
Whole wheat flour (Atta) : 3/4th Cup (150 gms)
Semolina (Sooji) : 1/4th Cup (50

gms

)
Sugar : 3/4th Cup
Ghee : 50-75

gms
Water : 2- 2 1/2 Cups
Cardamom powder : 1/2 tsp
Almonds - for garnish
Method :
1. Heat ghee in a kadhai, add whole whear flour (atta) and semolina (sooji). Saute them for 10-15 mins or till golden color. Stir it continuously.
2. Boil water in another pan. 
3. Add boiling water to the

atta

and

sooji

mixture and stir it continuously. Cook it till the water is absorbed.
4. Add sugar and stir

continously

. 
5. Add cardamom powder and mix well.
6. Garnish with almonds.
7. Serve hot.
Handy Tips :
# Semolina (sooji) is added to give the halwa a good texture. You can avoid it and can use only whole wheat flour.
# To get the same texture as semolina , use course whole wheat flour (

jada

/

ravela

atta

)
# You can add gram flour (besan) also.The ratio will be 1/2th cup- whole wheat flour (atta), 1/4th cup- semolina (sooji) and 1/4th cup- gram flour (besan)