Today I'm sharing a little guide about what you can do in Athens on a budget. I visited this ancient city right at the end of my trip and my funds were pretty low by this point. I had two full days of sightseeing while I was in the city and in this post you will find everything I did over this time and what it cost me. Athens is one of those cities where you have to do those touristy attractions because that is the heart and sole of this place.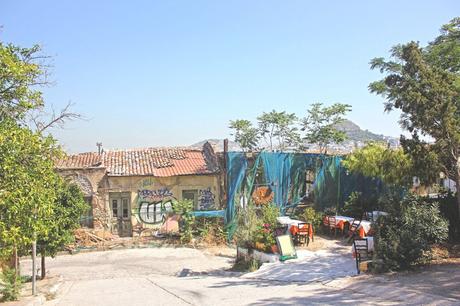 Athens on a budget over two days
Day One
Breakfast: I was staying at the Athens Backpackers Hostel and they provide you with free breakfast and coffee alternatively you could pop to a local bakery a pick up one of those tasty cheese pies for around €1.30.
Morning: On day one in Athens the perfect thing to do is take a walking tour, Athens Backpackers Hostel organize one every morning at 10am (just meet in the hostel reception). It will last around three hours and costs €6. You will spend the morning with a local guide wandering some of the backstreets as well as main areas and learn history that a guide book wouldn't tell you. Our guide Danny had some great stories some completely true others myths that have been passed down for generations. If you are lucky the walking tour will be timed right for the changing of the guards (ours was not, due to too much talking). Remember to take a bottle of water on the walk if you are there in the heat of summer. The walking tour was a great introduction for the rest on my time in Athens.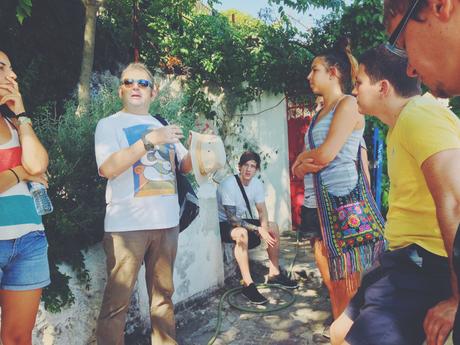 Danny our awesome walking tour guide
Lunch: Ask at your accommodation for a recommendation of a taverna you can grab a sit down lunch at, cost €10-15. To keep your spending to a minimum order a greek salad and water – you'll be surprised at how filling they actually are!
Afternoon: Spend the afternoon getting some rest bite from the sun, do this by wandering around the flea market, window shop on Ermou Street and Pandrossou Street, explore the National Gardens and check out the  Panathinaikou Stadium €5 for entry.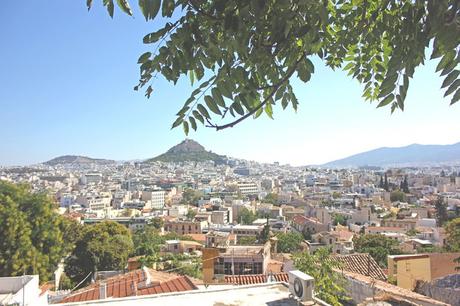 Evening: Start with happy hour at the Athens Backpackers rooftop bar (beers are €2), even if you don't want a big drinking night then go for the sunset views over the Acropolis. Head for Makrygianni Street for a good choice of Tavernas for dinner €12-18 (cost obviously depends on what you have).
Budget for day one €35-46
Day Two
Breakfast: If you are staying at the Athens Backpackers Hostel then they provide you with free breakfast and coffee alternatively you could pop to a local bakery a pick up one of those tasty cheese pies for around €1.30.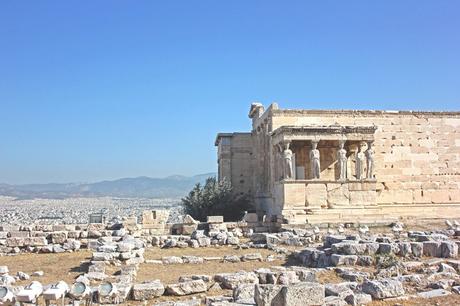 Morning: Be up early for the Acropolis and get there between 8-8:30am (before the heat and too many tourists arrive). Entry will cost €12 for a ticket that does the all the main attractions – this is the best for value, alternatively they will let EU students in for free as long as you have your student ID. The Acropolis will take around two hours then head straight for the Ancient Agora which isn't far from the main entrance of the Acropolis. Included as part of the Acropolis ticket or free for students.
Lunch: Grab a gyros pita and drink on the way back to the hostel – there are lots of takeaway places for gyros pitas but I struggled to find them in tavernas like I did in the Sporades Islands. Cost €5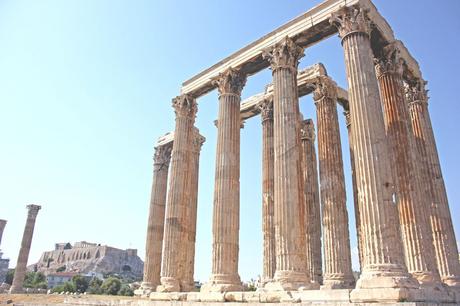 Afternoon: After lunch rest at your hostel/hotel for a little, you'll appreciate the break from being on your feet and in the sun. When you head out again go straight to the Arch of Hadrian and Temple of Olympian Zeus (entry is part of the Acropolis ticket or free for students). You won't need long here but it is worth going in. Next walk up through the National Gardens and catch the changing of the guards if you didn't the day before. Gyros aren't always super filling so if you find yourself hungry grab a bbq corn from one of the street vendors €2.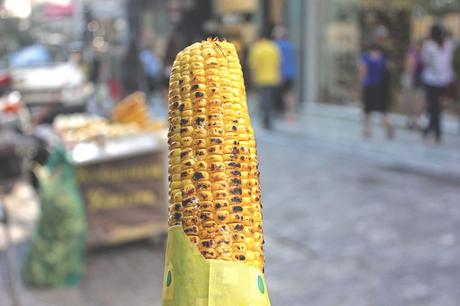 Dinner: Check out another taverna on Makrygianni Street – I would highly recommend God's restaurant whose food is a little bit fancier and tasteful than other places €12-18. End the day with a drink at a rooftop bar with views over the Acropolis as it lights up at night.
Budget for day two €31-42
TOTAL: €66-88 for two days in Athens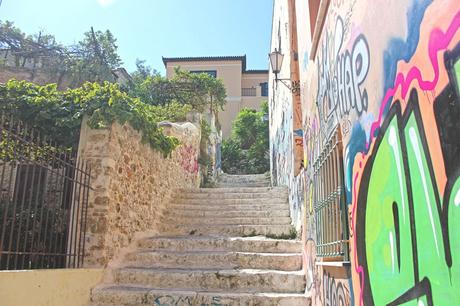 I hope this 'Athens on a budget' helps to give you an idea of what you can do over two days in Athens and how much it will cost you. If you have anything to add to my list please leave it in the comments below or if you would like to know more, just ask.
Athens is an incredible city with so much ancient history you really have to submerge yourself in it and make the most of what the city has to offer.

 Follow me on social media to keep up to date with all my adventures
Facebook | Twitter | Instagram | YouTube
2

0

1

0

0
Tags: 
Athens Budget Greece Things To Do In