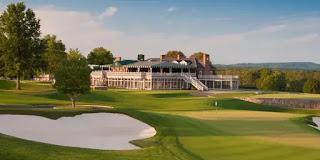 Trump National Golf Club, Bedmister, NJ
Donald Trump is planning to reopen  the U.S. economy in the face of a coronavirus outbreak, but that idea apparently is not based on sound science, or any science at all. It seems to be coming at the urging of presidential son-in-law Jared Kushner,
according to a report at Vanity Fair (VF)
. It also might be driven by the red ink Trump's company is bleeding,
reports The Washington Post
.
Is the Trump administration reaching a new level of dysfunction in the midst of a public-health crisis? Gabriel Sherman's reporting at
VF
suggests the answer is yes:
As the death toll from the coronavirus accelerates across the country—by Monday there have been more than 400 domestic fatalities—Donald Trump is grasping for a strategy before the crisis destroys his presidency.

He has tried playing Roosevelt by claiming the mantle of "wartime president" while also playing to his nativist base by labeling COVID-19 "the China virus." Now, Trump appears ready to disregard the advice of his medical advisers like Dr. Anthony Fauci by reopening the economy far sooner than Fauci has said is safe.:


:


According to sources, Trump is increasingly frustrated with Fauci and governors who advocated for shutting down large swathes of the economy to stop COVID-19's out-of-control spread. According to four Republicans briefed on internal West Wing conversations, Trump is fuming privately that Fauci advised him that the only way to blunt the pandemic was to bring the economy to a halt. "Trump is furious," a former West Wing official said. "He's been calling business leaders asking if he should just reopen the economy," a Republican briefed on the conversations told me. "He's hearing that you have to get the economy going," another former West Wing official said.:


:
So far, Trump has refrained from publicly lashing out at Fauci and New York governor Andrew Cuomo, whose lucid and empathetic press conferences are in contrast to Trump's shambolic media theater. But late Sunday night, as Dallas became the latest city to compel its citizens to stay home, Trump tweeted: "WE CANNOT LET THE CURE BE WORSE THAN THE PROBLEM ITSELF. AT THE END OF THE 15 DAY PERIOD, WE WILL MAKE A DECISION AS TO WHICH WAY WE WANT TO GO!":
:


The pivot away from the strict social-distancing strategy is gaining traction in the business community. On Sunday, former Goldman Sachs CEO Lloyd Blankfein—who endorsed Hillary Clinton—tweeted: "[C]rushing the economy, jobs and morale is also a health issue-and beyond. Within a very few weeks let those with a lower risk to the disease return to work."

Tom Bossert, Trump's former Homeland Security adviser, told me the pivot is reflective of Americans' skepticism of government. "This has to do with peoples' relationship to government authority prior to this event."
It also has to do with Jared Kushner, on a matter of science, and that should terrify all Americans:
Trump's view that he can ignore Fauci's opinion may be influenced by advice he's getting from Jared Kushner, whose outside-the-box efforts have often rankled those in charge of managing the crisis. According to two sources, Kushner has told Trump about experimental treatments he's heard about from executives in Silicon Valley. "Jared is bringing conspiracy theories to Trump about potential treatments," a Republican briefed on the conversations told me. Another former West Wing official told me: "Trump is like an 11-year-old boy waiting for the fairy godmother to bring him a magic pill." (The White House did not respond to a request for comment.)


Throughout the crisis, Kushner has counseled Trump that the crisis isn't as bad as the media is portraying. Two sources said Vice President Mike Pence has complained to Trump about Kushner's meddling in the work of the coronavirus task force. (Another former West Wing official disputed this, saying Pence wouldn't openly challenge the Trump family. "Pence is politically smart," the former official said.)
As for Trump's 's business interests, they are taking a hit, reports
WaPo
:
President Trump's private business has shut down six of its top seven revenue-producing clubs and hotels because of restrictions meant to slow the spread of the novel coronavirus, potentially depriving Trump's company of millions of dollars in revenue.




Those closures come as Trump is considering easing restrictions on movement sooner than federal public health experts recommend, in the name of reducing the virus's economic damage. . . .

In his unprecedented dual role as president and owner of a sprawling business, Trump is facing dual crises caused by the coronavirus. As he is trying to manage the pandemic from the White House, limiting its casualties as well as the economic fallout, his company is also navigating a major threat to the hospitality industry.


That threatens to pull Trump in opposite directions, because the strategies that many scientists believe will help lessen the public emergency — like strict, long-lasting restrictions on movement — could deepen the short-term problems of Trump's private business, by keeping doors shut and customers away. . . .


So far, the Trump Organization has closed hotels in Las Vegas; Doral, Fla.; Ireland; and Turnberry, Scotland — as well as the Mar-a-Lago Club in Florida and a golf club in Bedminster, N.J. Many of the clubs closed because they had to, under local orders. Others closed on their own, following strong guidance or recommendations from local officials.