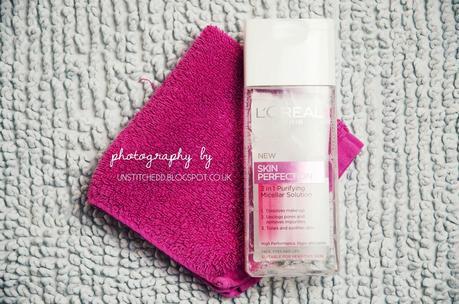 L'Oreal Micellar Solution - £3.33
Ever since starting to wear makeup, I have always loved using waters to take it off. It started with a borrowed (cough stolen cough) bottle of Bioderma from my Mum and then the Body Shop Cucumber, which I posted a review on a couple of months ago. Unfortunately since then, it has been discontinued (why do companies do this?), and so I have been forced to search for a replacement. I'd heard a lot about the L'Oréal Micellar Water from the blogosphere, and it seemed to have a loyal following for being a virtual dupe for Bioderma, so I thought I would try it out. 
The report? 'Micellar' solutions are makeup removers composed of oils held in water molecules so that they remove the makeup, without spreading it around your face like some makeup removers and effectively 'eating' the dirt on your face, yum. Because if this, they are as gentle as water and can therefore you don't need a different makeup remover for your eyes, win, whilst still being effective at removing everything. For reference, it can remove waterproof mascara and red lipstick with little difficulty and doesn't dry out my combination/dry/everything skin or break me out. To use I just dampen a cotton pad with a good splodge (technical term) and wipe it all over my face to remove any makeup or dirt that may be on the surface. I find it has a lovely cooling effect so I like to use it in the morning to wake up my skin sometimes, but its main use for me is before bed. Although it doesn't need to be washed off, I follow up with my favorite ARK Cleanser (review here) but its great to know that if I'm feeling tired or lazy I can still clean my skin with minimal effort, no excuses. 
It's become a firm favorite of mine, and something that I continue to use every night, perhaps even my favorite makeup remover yet!
Are you a Micellar lover like me? Or does it not live up to the hype for you?