When The Hershey Company contacted me and offered to send me a spa kit, how could I resist?! Chocolate and spa treatments... count me IN!
I had no idea I could make homemade spa treatments using simple ingredients I had around the house. With our upcoming move and being pregnant, my stress levels have been through the roof. There was nothing I was looking forward to more than sitting down, putting on a mask, lighting a candle, and enjoying some relaxation time!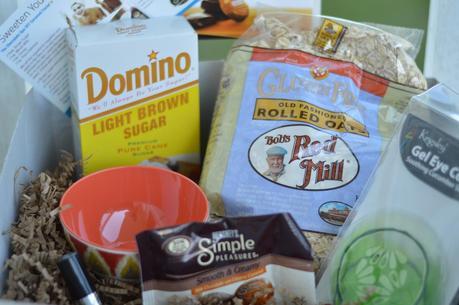 Here are a few reasons why Caramel is the perfect inspiration for at home spa treatments:
Follow these simple tips and beauty treatments, inspired by the new HERSHEY'S SIMPLE PLEASURES Milk Chocolates with Creamy Caramel, to look and feel your best in no time! ·  Light a caramel-scented candle to inspire sweet relaxation and to create an atmosphere of a spa at home.·  Try a DIY Caramel Facial (recipe below) with simple ingredients from your pantry that will exfoliate and hydrate your skin to leave you feeling fresh and fabulous!·  Whip up a homemade Caramel Hair Treatment (recipe below) and relax while it sinks in by savoring HERSHEY'S SIMPLE PLEASURES Chocolates with Creamy Caramel. The new flavor joins the original varieties, all of which you'll feel great about loving because they have 30% less fat*. Perfect for a balanced lifestyle!*Compared to the average of the leading milk chocolates
Apply a shiny caramel nail polish or a creamy caramel eye color once you are done pampering for a neutral chic summer makeup look. 
DIY Beauty TreatmentsInspired by HERSHEY'S SIMPLE PLEASURESChocolates with Creamy CaramelThe Chocolate Spa DIY Caramel Facial
Recipe provided by 
The Spa at The Hotel Hershey
·

  
2 tbsp. Brown Sugar
·

  
1 tsp. Whole Milk
·

  
1 tsp. Honey
·

  
1 tsp. Plain Oatmeal
Instructions:
1.

  
Mix all the ingredients together and apply to the face in circular motions to exfoliate the skin.
2.

  
Leave the mask on for 15 minutes then rinse with warm water.
3.

  
Follow with a mild cleanser.
Why it works:
-Honey prevents skin dehydration and is also a natural antiseptic.
-
Brown sugar exfoliates and hydrates the skin.
-
Oatmeal removes dirt and oil from the pores.
-
Milk's amino acids moisturize and smooth the skin.
My skin and I have had a terrible relationship ever since I got pregnant and I couldn't wait to try this mask! Although hubby won't admit, he joined me in this experiment and really liked it too :) The best comment? "I can't move my face" MEN!
I loved how clean my face felt afterwards and am going to try and do this once a week to "clean the palette".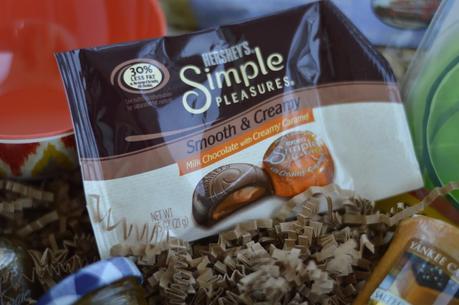 Caramel Hair TreatmentRecipe provided by HowDoesSheIngredients:·

  

6 tbsp. Honey·

  

6 tbsp. Olive Oil·

  

2 overripe Bananas·

  

3 tbsp. Molasses·

  

1 tbsp. Apple Cider Vinegar·

  

1-2 tbsp. Cornstarch·

  

1 tsp. Wheat Germ Oil

1.Blend all ingredients in a blender until smooth.

2.
Pour the mixture through a strainer and into a saucepan. Place the pan on medium heat and stir constantly until the mixture forms a thick batter (you may need to add water during this process to get the consistency you want).
3.
Let the mixture cool and divide your hair into 3-4 sections, each secured with a clip. Apply the cooled mixture to your hair, starting at the roots and then spreading down to the ends.
4. Once your hair is completely coated by the caramel treatment, cover it with a plastic hair cap and let it sit for 1-2 hours (or overnight for extra dry hair).
5. Wash, condition, and style your hair as usual. You can freeze the extra mixture for future use. Your hair will love its soft, gorgeous makeover!
I haven't had a chance to try the hair treatment yet (need to get a few more ingredients) but my hair is also excited to try it. With all of the coloring I do and sun exposure this summer, it could use pick me up!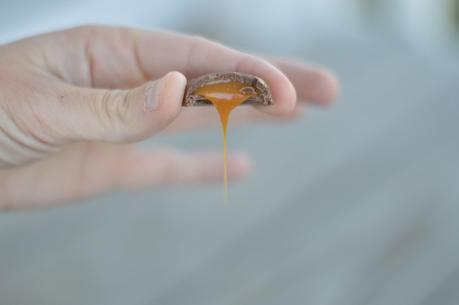 And of course, one of my favorite parts was the new HERSHEY'S SIMPLE PLEASURES

Chocolates with Creamy Caramel. YUM!

A huge thank you to The Hershey Company for letting me try these amazing at home beauty treatments and of course, taste this little piece of heaven! 

"She's super fab and puts the "Mer" in America...Check her out!"