We all know Astaberry Biosciences as they are the leading manufacturer of Ayurvedic cosmetics. Recently they have introduced a new product known as "Skin Whitening Face Wash"
 Let's check Astaberry Skin Whitening Face Wash Review
What Astaberry Skin Whitening Face Wash claims?
Astaberry Skin Whitening Face Wash which provides instant fairness and milds dark skin spots and under-eye circles.
Formulated with the rich combination of Mulberry and Liquorice extracts, which are known for excellent skin lightening properties, Astaberry Skin Whitening Face Wash helps improve Skin Complexion and texture.
It deep cleanses the skin and reduces the appearance of dark spot, pigmentation and age spots.
Read: Astaberry Diamond Bleach Creme Review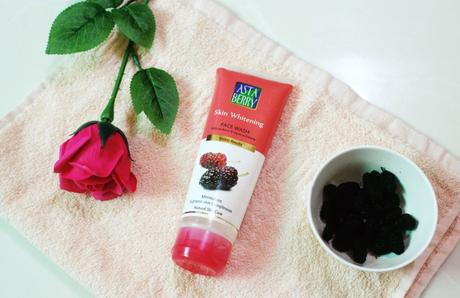 Price of Astaberry Skin Whitening Face Wash
Rs. 110 for 100ml
Buy it HERE . Also available at all leading cosmetic outlets and major online retailers.
Ingredients list of Astaberry Skin Whitening Face Wash
Aqua, Sodium lauryl ether sulphate, Cocoaminepropylbetain, Carbomer, Mulberry Extract, Liquorice extract, Salicylic acid, Turmeric extract, Rose extract, bellenisperenis extract, Triethanolamine, Methyl paraben, Propyl Paraben, EDTA Disodium, Glycerin, Hydrovance, Polyquateranium 10, Lactic acid, Allantoin.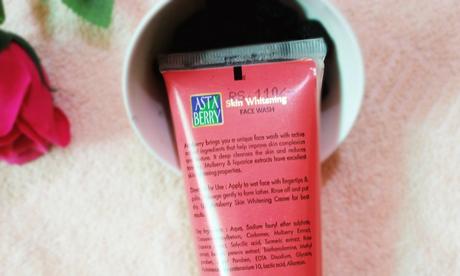 This face wash for all skin type comes in a transparent squeeze tube with a rose-colored flip cap. The packaging is quite good for being travel-friendly and hygienic to use. The product is colorless and has a gel-like texture with tiny pink beads inside. This makes it so easy to apply on face and spreads easily. The after effect of this skin whitening face wash is super smooth with a butter soft finish. Also, the amazing foaming formula is effective to take off all dirt and grime from your skin. It's definitely gentle and adds shine to the face for some time.
Read: Astaberry Papaya Sunscreen Creme SPF45 Review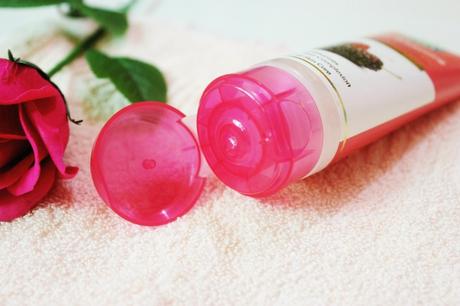 This fairness face wash contains Mulberry extract which helps in regulating melanin synthesis to reduce any dark spots or blemishes on the skin and thus brightens it. Liqourice and turmeric extract in this act as anti-inflammatory properties to rejuvenate and add a youthful glow to your skin.
Final Verdict on Astaberry Skin Whitening Face Wash
Astaberry Skin Whitening Face Wash is best for Daily skincare routine for all skin types and ages. Also, this is a very affordable face wash to add instant fairness & get glowing skin this summer.
Do leave your thoughts on Astaberry Skin Whitening Face Wash Review!