TENS LIST
My Ten Favorite Things About Writing
By Gail Z. Martin
#10 Naming characters. No matter which series it is, or what genre (epic fantasy, urban fantasy, steampunk/alternate history, comedic horror, or MM paranormal romance/urban fantasy) I enjoy coming up with the name that feels right for a character. And I love going through lists of names to find just the right match!
#9 Discovering characters' favorite things. I have a lot of fun 'sitting down' with a character in my mind and finding out all sorts of favorite things—songs, movies, stories, alcoholic beverage, weapon, pet, color. It's the point where a character starts telling me what he/she is like, instead of me putting traits onto a character. That's when the book begins to really come to life!
#8 World building. Whether the story is modern, medieval, futuristic or something in-between, I love to create a sense of place by figuring out what's unique about the location of the story. I look for details that make a difference to the plot and that shape the characters, not just different to be unusual or clever. It has to matter. Creating the setting is a real joy for me.
#7 Fight scenes. I write books where there are plenty of fights and lots of things blow up. Writing a fight scene is like choreographing a dance. I have to know where each character is standing, how he/she moves, what weapons are involved and how they work, what the terrain underfoot is like, what's going on around the people who are fighting, whether or not magic is a factor. There are a lot of moving pieces, but it's so satisfying when it all comes together.
#6 Developing the plot. A book needs conflict and a goal to have a story. Figuring out the right story and the right twists to go with the world and the characters is a lot of fun, and it's essential to good storytelling.
#5 Creating the characters. If the people in my book don't feel real in my mind, they won't feel real to readers, either. That involves not just their favorite things, but their histories, past triumphs and failures, what scares them and what makes them angry or ashamed, who they love and what emotions they're feeling.
#4 Creating holidays and festivals. A culture or kingdom is defined by what it celebrates, what it holds up as worthy, what it commemorates. Creating holidays and festivals that spring from the worldbuilding gives me a chance to show characters doing something normal to them that helps the readers understand the world and the people in a whole new way.
#3 Creating fictional religions. Every culture holds something sacred. Not everyone in the culture will agree or worship in the same way, and there are likely to be competing traditions, which foster conflict. Creating the belief system for a culture provides insight into how the characters think, where they fit in society, and how the culture supports its moral views and prejudices.
#2 Finding interesting monsters and supernatural threats. My books are full of ghosts, magic, vampires, werewolves, curses, haunted places, and both familiar and unusual monsters. It's fun to serve up a creature that readers haven't seen before, and don't have ideas about how to kill. There is so much folklore to choose from, and such a wide variety of monsters to pick from and teak to make distinctive, that it's like trying to select your favorites from the candy store!
#1 Developing a new magical system. I love thinking about how magic works, what the costs and limits are, how someone gains magic (born with it, earned, summoned or stolen), whether magic is a blessing or a curse, whether people with magic have power or are outcasts, etc. Magic is always at the heart of my stories, so how magic works and who has it is an essential element in my plot, and it helps to shape my characters from the inside out!
Assassin's Honor
by Gail Z. Martin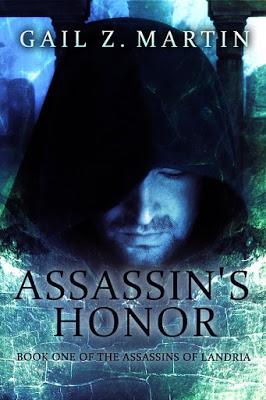 GENRE

: Epic Fantasy




BLURB:




Buddy flick epic fantasy! Joel Breckenridge and Garrett Kennard are King's Shadows, elite assassins serving the crown of Landria. When a shadowy itinerant holy man starts captivates the nobility with treasonous whispers, Ridge and Rett go rogue to stop the threat, save the kingdom and protect the king--while landing on the 'Most Wanted' list themselves.




EXCERPT




Breaking glass and the crack of gunfire were Ridge's signal to move, as Destwiler's skull exploded from the matchlock's shot, spattering the crate of weapons with blood and bone. The boy screamed in terror, a thin, shrill sound.




Ridge spun around, grabbing two throwing knives from the top of the stash in the box and had them hilt-deep in each guard's ribs before their swords cleared their scabbards. He dropped the heavy crossbar to lock the door to the office, and dodged back to the box of weapons, reclaiming his own array of swords and knives before teasing out a long fuse from the bottom of the crate. Then he strode over to Destwiler's corpse and pulled the key and its strap around what was left of the man's head.




Ridge removed the warrant from inside his vest and read out the charges as required by law. "Roan Destwiler. By order of King Kristoph of Landria, you stand condemned of crimes against the kingdom and the throne too numerous to note, but most grievously the kidnapping of Kelvin, son of Thad, Lord of Wendover. You are sentenced to death, summary execution, without notice or reprieve."




He rolled the warrant up and tucked it into Destwiler's bloody vest, a formality. Ridge bent down to search Destwiler's pockets, curling his lip at the still-warm blood that soaked the shoulders and sleeves of the man's coat. He found a parchment note tucked beneath the vest and took it to read later.




AUTHOR Bio and Links:




Gail Z. Martin writes epic fantasy, urban fantasy and steampunk for Solaris Books, Orbit Books, Falstaff Books, SOL Publishing and Darkwind Press. Vengeance is the second in the new Darkhurst epic fantasy series. Also new is The Dark Road, the second in the Jonmarc Vahanian Adventures series, and Assassin's Honor (coming, October 2018), the first in the new Assassins of Landria series.




Her Deadly Curiosities urban fantasy series set in Charleston, SC has a new novel, Tangled Web, and two new collections, Trifles & Folly, and Trifles & Folly 2.




Other work includes the Chronicles Of The Necromancer series, the Fallen Kings Cycle, the Ascendant Kingdoms series, and the alternate history novel Iron & Blood and the Storm & Fury collection (co-authored with Larry N. Martin) She is also the co-author (with Larry) of the Mark Wojcik monster hunter series (Spells, Salt and Steel) and the upcoming Wasteland Marshals series and the Cauldron/Secret Council series from Falstaff Books.




As Morgan Brice, she writes urban fantasy MM paranormal romance. New and upcoming books include Witchbane, Burn, Dark Rivers, Badlands, and Lucky Town.




Find her at www.GailZMartin.com, on Twitter @GailZMartin, on Facebook.com/WinterKingdoms, at DisquietingVisions.com blog and on Goodreads https://www.goodreads.com/GailZMartin. She is also the organizer of the #HoldOnToTheLight campaign www.HoldOnToTheLight.com. Join her email update and never miss a new release—plus get great free stories just for signing up! http://eepurl.com/dd5XLj




Buy on Audio, ebook, paperback or free on Kindle Unlimited here: http://a.co/d/aLiSoFi




GIVEAWAY




Gail Z. Martin will be awarding a $25 Amazon/BN GC to a randomly drawn winner via rafflecopter during the tour.


a Rafflecopter giveaway