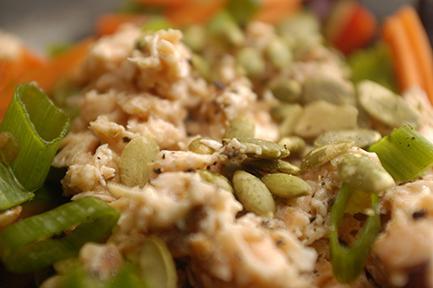 This salmon salad is really high in protein and healthy fats, and it packs a lot of flavor from the grilling.  I used one individually packaged Kirkland frozen salmon fillet, which I thawed overnight in the refrigerator.  I grilled it on a hot cast iron grill pan until just opaque and let it cook the rest of the way in a bowl from the residual heat.  Instead of loading it with mayonnaise, I used a teaspoon of wasabi mayonnaise and 1/2 teaspoon of sesame oil for flavor and added about 1/2 cup of whipped cottage cheese.  I often use it in place of sour cream or mayonnaise because it's high in protein and low in fat and tastes wonderful whipped.  See this post for preparation.  I made a green salad and topped it with the salmon and dressed it with my favorite Miso Dressing.  I make this dressing all the time and we have it year round.  Many years ago, I included it as part of a Cooking Light recipe I submitted to a recipe contest, and I was a finalist!  Anyway, it's really delicious, and it goes well with salmon, chicken, and beef.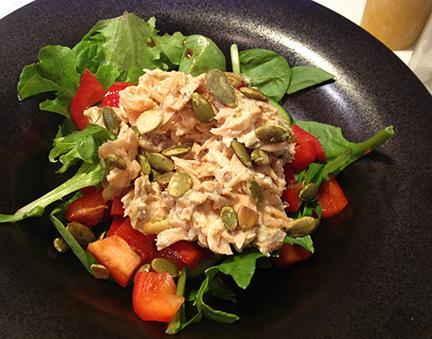 I've been a busy bee this month.  Along with other work projects, I FINALLY redesigned my website, which I really needed.  I was getting really sick of my theme (no tech support to speak of).  I switched to Squarespace.com, because friends recommended them, and I LOVE them.  I highly recommend them if you are low tech like me.  Every time wordpress (.org not .com) would update their software or a plug-in needed updating, it'd be such a big deal to back up my whole site.  I know for most people, this is probably nothing.  Squarespace does all of this automatically and you don't have to worry about it.  They also have great templates to choose from.  But the best thing is that they have AMAZING tech support.  I've only done it via email, but if you ask a question, they get back to you in minutes.  They are always so nice and helpful. I'm really glad I made the switch!  Please visit my new site at:  www.melissaiwai.com   anad check out the new design.   I also have a blog there that is only art related, where I talk about the industry, what I'm working on, and my process. :)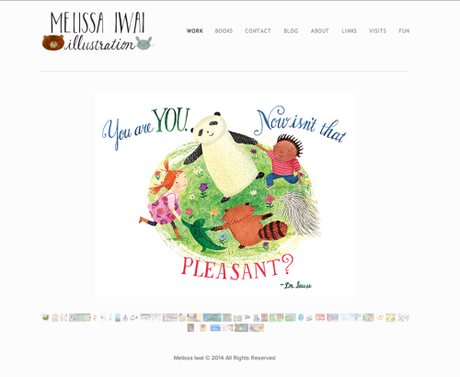 Also, I made new business cards this month: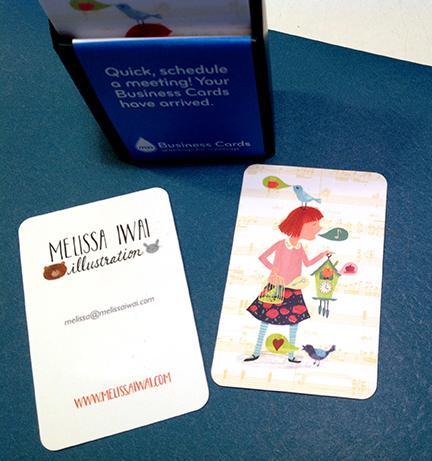 I wanted them to go with my website, so I used the same logo. I did all the lettering except for my email address! :)
I love the feel of these cards — the card stock and printing is great!!  I went with Moo.com.  I had never used them before, but I had seen friends' cards which I liked, so I decided to try a new place.  They are FANTASTIC!  Check them out if you looking to print cards, postcards, etc.  So reasonable too.  AND, when I got my cards yesterday, I realized I had made a mistake and had my back image upside down!  Yes, this is why I am not a graphic designer… lol.  I called them, and they reprinted the entire batch and are sending me replacements for FREE even though it was my mistake.  So I feel like I have spread the good word — they are a really great company with a great product!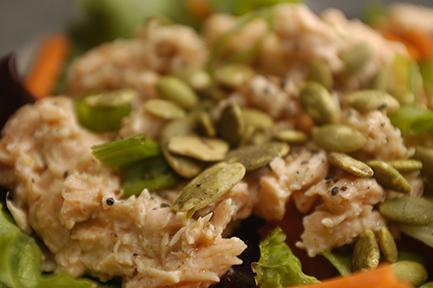 Asian Grilled Salmon Salad
1 6-8 oz piece of salmon fillet
kosher salt and pepper
non-stick spray
1 teaspoon wasabi or plain mayonnaise
1/2 cup whipped cottage cheese 
1/2 teaspoon sesame oil
For green salad:
Couple of handfuls of spring mix
1/4 seedless cucumber, sliced
1 plum tomato, diced
1 small carrot, julliened
1/2 red pepper, diced
1/2 scallion, finely sliced
1 tablespoon roasted pumpkin seeds
For dressing:
1 tablespoon rice wine vinegar
1 tablespoon soy sauce
2 teaspoon canola or grapeseed oil
2 teaspoons miso paste
1/2 teaspoon sugar
1/2 teaspoon sesame oil
1.  To make dressing, whisk all ingredients together until completely smooth.  Store in the refrigerator.
2.  To grill salmon, heat grill pan until almost smoking.  Spray with non-stick spray.  Pat salmon dry and season with salt and pepper.  Lay on grill pan and let sear for about 2 minutes.  Flip over and sear other side. for about 1 1/2 minutes.  Turn heat to low, cover and cook until desired doneness is reached.  Let salmon cool a bit in a large bowl.
3.  Break up salmon with a fork until completely shredded.  Add mayonnaise, whipped cottage cheese, and sesame oil.
4.  Make green salad and top with salmon salad.  Garnish with pumpkin seeds and sliced scallions.
Serves 2.