The New York Times recently ran an interesting piece on the growth in philanthropic giving among Asian-Americans in the United States. It's certainly a trend that bears not only watching, but active understanding, among those in the fundraising profession. This newly-minted center of wealth is also becoming a center of power in philanthropic circles.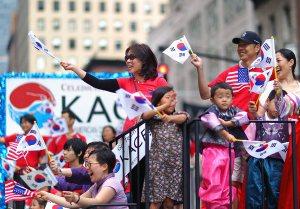 Kyung B. Yoon (center), executive director of the Korean American Community Foundation, rode on a float during the Korean Parade on Avenue of the Americas in October. SOURCE: Chang W. Lee/The New York Times
The Times article describes "a new class of affluent Asian-Americans, many of whom have benefited from booms in finance and technology" that are making big splashes in the U.S. Their gifts – including multi-million dollar ones –  are not only going to "groups focused on their own diasporas or their homelands." These donors are also giving to education institutions, museums, performing arts venues, and health care organizations, particularly the more prestigious ones.
And a key point in the article… "The institutions, in turn, are increasingly courting Asian-Americans, who are taking high-profile slots on their governing boards."
"We grew up with this idea that success is the more distance you can create between yourself and the pack, but it's really about how much of the pack you can bring along." – Kyung B. Yoon, Executive Director of the Korean American Community Foundation (New York Times, 1/8/2013)

Best practices in donor engagement apply to new and old money donors alike. As this population of newly affluent immigrants begins adopting philanthropy as a purpose, it is incumbent upon nonprofit organizations to both recognize this and engage these prospective donors in their causes.
Full article in The New York Times:  Asian-Americans Gain Influence in Philanthropy