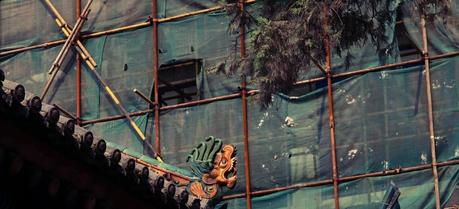 A view of a construction site in China (Credit: Flickr @ mararie http://www.flickr.com/photos/mararie/)
Building owners in Asia markets are motivated by savings and government programs to drive energy efficiency decisions, according to the 2013 Energy Efficiency Indicator (EEI) study by Johnson Controls. The survey revealed a 10% increase in interest in energy efficiency since 2010 in Asia, and a lack of capital and insufficient payback as key obstacles to implementing energy projects.
This is the seventh annual EEI study of global building leaders that tracks key energy efficiency trends, drivers for action, and barriers around the world. More than 3,000 decision-makers in 10 countries participated in the survey this year. In Asia, 1,263 executives who manage energy decisions for buildings from Australia, China, India, and for the first time, Singapore, were surveyed.
"Findings from this year's study show a growing interest in energy efficiency in Asia, but also suggests that public policies and private investment must work together to transform interest into action in Asia," said Soren Bjerg, vice president and managing director of Johnson Controls Building Efficiency Asia.
Interest in energy efficiency and the importance of energy management is growing in Asia. The study showed that respondents from China and India have the greatest interest levels in energy efficiency globally, with 61 percent and 58 percent respectively saying that their organizations are paying a lot more attention to energy efficiency. In Australia and Singapore, which have a more mature market in this area, a majority of respondents (71% and 73% respectively) indicated that energy management is either extremely or very important.
The top energy efficiency driver for Asia is energy cost savings, consistent with businesses globally. Government incentives, rebates, and policy are also deemed important. Other notable findings include the criticality of energy security to China and India; as well as India and Singapore being the only countries surveyed worldwide to rank enhanced brand or public image as one of the top five drivers.
The study identified that barriers which hinder energy efficiency adoption are similar around the world. In Singapore and India, respondents cited barriers such as the lack of available capital; insufficient payback; uncertainty regarding savings/performance; the lack of technical expertise to evaluate or execute projects; and the lack of awareness about opportunities as being equally challenging in their pursuit for energy efficiency. For organizations in China, insufficient payback as a barrier was significantly higher, while in Australia access to available capital was the top challenge.
Globally, a quarter of the respondents cited lack of funding as a top barrier to energy efficiency projects, declining from 30 percent in 2011 to 26 percent in 2012. Uncertainty about savings and performance in energy efficiency projects increased globally, from 12 percent to 15 percent.
Despite the diverse nature of the markets across Asia, the countries surveyed generally favored the use of tax credits or incentives as the energy policy for greatest impact, with Australia showing a particularly high preference at 30 percent. For China, stricter building codes as well as green appraisal standards are on par with tax credits or incentives. Singapore also accords a notably high level of importance to carbon pricing compared to the other countries in Asia.
The seventh annual survey of more than 3,000 building owners and operators around the world was led by the Johnson Controls Institute for Building Efficiency, the International Facility Management Association, and the Urban Land Institute.