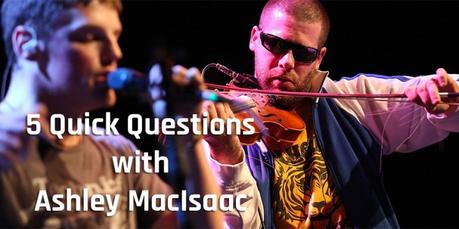 Ashley MacIsaac has been performing in front of audiences since he was a wee lad.
The fiddler extraordinaire started his career as a dancer. He's acted and danced on Broadway. He also plays the piano, is a singer-songwriter, has won multiple awards, released 13 albums including the double-platinum selling, Hi, How Are You Today? His music crosses genres, and at the time HHAYT was released in '95, his mix of rock and Celtic music was groundbreaking.
He's a pioneer, but Ashley MacIsaac has also seen his share of controversy. He's also a guy who cares deeply about things.
Born in Creignish, Cape Breton Island, Nova Scotia, he's travelled the world and played for sold-out crowds. MacIsaac even had the privilege of playing at the Olympic Games Opening Ceremonies in 2010. As a lefty, he has an unusual way of playing. Ashley plays a right-handed fiddle, strung right-handed. As a beginner, it was explained to him that learning this way would allow him to play other people's instruments. It's unconventional, but it seems to work very well for him.
I had the pleasure of speaking with Ashley last week. We chatted a bit about television. I watch a lot of TV, and so does Ashley. Being located in Windsor, he's close to Detroit, that means he gets a lot of cool over the air digital channels from the Motor City. Some of his favourites include old detective shows like Columbo and The Rockford Files. I love those shows! I found myself wishing I'd told him to check out Bosch on Prime. Great music and old school detective feels. I think he might like it.
Our conversation segued to politics at that point. Knowing about his previous involvement in Canadian politics, I was excited to ask him about the upcoming election. Raised in a Liberal household, with his dad being a supporter of Pierre Trudeau, MacIsaac was also a supporter of the Liberal party. That changed in January of last year when he joined the Conservative Party. We talked at length about the reasons, and the word hypocrisy came up a few times. He quipped that he'd been far more liberal in his take at any given point, than where the Liberal Party of Canada has sat. He wondered out loud, why was he not aligned with the NDP.
"And my god it would be wonderful if Jagmeet Singh was our Prime Minister after this election. Knowing politics as well as I do. There's always a chance. But there's also a chance that if you put wheels on your attitude, it'll drive like a truck." - Ashley MacIsaac
Before we dove into talking about music, I had one more non-music related question. I wanted to talk about cannabis. We're now at the one year mark for legalized recreational marijuana in Canada. Last year, Ashley was first in line when the first store opened in Cape Breton. I asked him why it was important for him to do that. He explained to me that he's been selling himself as an artist for years. I involve myself with conversations about marijuana in public interest and on stage. For a number of reasons. Over the years, he never felt that cannabis should be illegal, that it's not as harmful alcohol.
"Of course I want to be somehow connected to that momentous day, and I figured okay Cape Breton." - AM
With Nova Scotia being the first province to sell legal cannabis, it allowed him to get the national press out. He knew that was something he could do.
"I didn't have to do much. I went there I stood in line, and I called a friend of mine because I don't have Facebook, and I said, I'm gonna text you a picture of me standing in line, put it on your Facebook, and we'll see what happens. And you know that was at two in the morning, and by six in the morning there were media crews calling." - AM
With that, I transitioned the conversation to music. At this point, in his career, MacIsaac can be pretty selective about where and when he plays. Last week he was at the Celtic Colours Festival. This year, the nine-day festival boasted 50+ concerts and 300+ community events all against a gorgeous backdrop of autumn colours. It brings artists in from all over the world, and he played the first show in '97 with The Chieftans.
"People come from away, and I think it's an extraordinary event for them. They get to see Cape Breton through the eyes of a very professionally run festival. It's all over the island. I'm always happy to be part of it." - AM
Upcoming dates include October 18 at The Playhouse in Fredericton, NB, November 21 at Valemount Community Theatre in Valemount BC, November 22 at Festival Place in Sherwood Park, AB, and further out, May 1 at the Halifax Convention Centre in Halifax, NS. You might wonder why Sherwood Park and not Calgary or Edmonton. Turns out it's a lovely little theatre with a great crowd.
I asked Ashley if he'd thought about doing an anniversary tour with Hi, How Are You Today? All I can say is, he didn't say no, that'll never happen. He did say that he regularly plays parts of the album and that there are unreleased tracks that he could play. But, he doesn't feel like it's in the cards. He likes to do new things. Which led us to what he's working on now.
He was kind of cagey about it, and I couldn't get him to talk specifics, but he did say that it's being written. That's good news. We'll keep our ears to the ground and let you know when he can share something more concrete.
We love to ask artists about their dream collaborations. Ashley has one of the best ones I think I've heard to date.
"Well, I have a dream collaboration, it's with my two cousins. Nobody knows this, but Garth Brooks is my cousin, on my mother's side. His grandmother left Cape Breton many years ago with a man from Boston. They moved to Western Montana. That's where Garth Brooks takes Brooks from. His grandmother's last name was Esther Brooks. So I would like to have Garth sitting on one stool, and Jack White sitting on the other stool, with me sitting in the middle. The three of us doing fiddles and guitars, and real down-home country, jamming some amazing song, that would be something. And I would want to play at the Ryman." - AM
He went on to say, that a Rita MacNeil song would also work really well. This seems like a dream collaboration that we'd love to be a part of. With that, I wrapped up our time with a rousing round of 5 Quick Questions.
5 Quick Questions with Ashley MacIsaac

The song that made Ashley MacIsaac a household name in the '90s, Sleepy Maggie.