As you're probably aware, the UK has been hit by a heavy dosage of snow recently and, last night (or, early morning), it was time for the south-west of England to receive its fair share. This is where I'm glad that I have a job where I only have to work half a day on a Friday… I'm more encouraged to make an effort to get in to work on time (which I did) and, I still get the whole afternoon to go out and to enjoy these rare sights of whiteness.
I think this is the first time we've had any proper snowfall for two-years? At least, in this part of the country. Apparently, another couple of showers are forecast for tomorrow morning as well.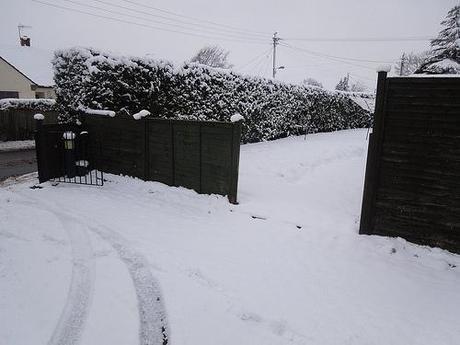 As clear as white…
When I have more time, I'll make a better effort to collate all the photos I've taken (currently counting 89, including this one), upload them in to a Flickr album and to then inform you all with a new blog post. Photography is a part-time interest of mine and so, it deserves a place on this blog.
Before I have to go and do other things, I just wanted to share this one image with you because, amongst my list of many other things to do, I still need to pick-up, repair and refit a 4ft tall fence panel that blew down months ago. I'm hoping that it doesn't need replacing. If I have to cut some new battens for it then, hey, I also get to use my workshop!

As you can tell, now is not the time for me to be running blades and bits at several thousands of RPM when I can barely feel my toes sometimes. I do need to go out there and seriously sort out my first pile of tools to sell though (hand and power tools that I can manage without).