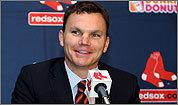 I waited until it became official that Ben Cherington became Red Sox general manager to write this post. I was impressed by his news conference yesterday, as he seemed sincere about his getting the Red Sox back on the right track after the team fell badly off the rails last September.
The club, fans and city were thoroughly embarrassed by the horrendous baseball played by the Red Sox in that awful month. Terry Francona and Theo Epstein both departed town, and a new man with a deep resume with the Red Sox now takes over. Like his predecessor, he's from New England and knows what it's like to be a Red Sox fan. Ben seems to get it.
The fans were damaged by the collapse of last September. There's a lot of fence-mending that has to be made with Red Sox Nation. Apologies aren't necessary. Actions will speak much louder than that.
And yesterday's announcement by Cherington during the press conference that John Lackey will miss 2012 because he needs Tommy John surgery brought me a sense of relief. Relief in that Lackey can't screw up 2012 in any way, shape or form. But I do hope for his sake his surgery goes well.
Cherington will have a busy plate this off-season. He's got a lot of critical decisions to make, on and off the field. Before the Lackey announcement, I thought offering Josh Beckett around might be a wise move, but with Lackey gone, Beckett almost surely stays. It also means the Sox will look for a 4th starter behind Beckett, Jon Lester and Clay Buchholz. Forget any other these rumors about persuing C.C. Sabathia. He's going to opt out of his contract with New York, and he will receive a longer deal with them for much more money (the Cash Cow would be foolish if he didn't opt out). The Sox shouldn't get into a bidding war they can't win. And I simply can't see the Sox offering him over $25 million+ per season for pitcher in his thirties who had his second highest ERA of his career in 2011.
The Sox have in-house free agents that are more important anyway. I believe they will resign Jonathan Papelbon and David Ortiz, and exercise the 2012 option they hold on Marco Scutaro. Papelbon had a splendid year in his walk year, but should he ask for too much in terms of years and money, there are other alternatives out there like Heath Bell. Ortiz' best option would appear to be the Red Sox, as the market for DH's over 35 doesn't look too promising. (Forget the Yankees. They have zero interest in him.) And with Jose Iglesias still not appearing to be ready to take over at SS in Boston, Scutaro looks like a good bet to return, as he was one of the few bright spots of last September.
It's also time to say goodbye to two old veterans: Tim Wakefield and Jason Varitek. They have both wore the Sox uniform with dignity and class, but their time has passed. It was extremely painful to watch Wake go for his 200th win, and it was a relief when he finally got it. I know he's just 6 wins away from the club record for wins, but last September proved he's got absolutely nothing left. And there is nothing sadder than watching some former great player struggle just to reach a number. He deserves a day in his honor should he retire, with his number 49 to be enshrined in RF. And the same with Tek. He hit all of .077 last September, and just can't throw anyone out on the bases anymore. He should also call it a day and begin his managerial career.
Both Wake and Tek deserve the right to call it a career on their own, but should they not, the Sox would have no option but to outright release them both. That may sound cold, but the club must move forward. And now.
Who will play RF next year? That is anyone's guess. It sure won't be J.D. Drew, who's contract is up and figures not to return. Josh Reddick looked impressive at times but didn't hit much in September. The Sox may want a veteran bat to play the position next year, with names like Carlos Beltran and Grady Sizemore on the FA market. They may want to sign their next RF to a one-year deal. The bench will need an upgrade as well.
I maybe in the minority on this, but I say leave Alfredo Aceves where he is in the pen. He found his niche as a multiple-innings pitcher out of the pen. He was extremely valuable there, and his starting numbers weren't great at all, granted he made just 4 starts. I guess it will depend on what the Sox do with Papelbon and Daniel Bard.
And of course, Cherington's biggest move this off-season will be who he brings in as the new field manager. I won't speculate here, as there are many good candidates out there. He will have to fit the organization's philosophy, and will have to make his presence known to the many veterans and stars on this team. And who they bring in will also have to be "media-savvy" the way Terry Francona was in Boston. The new manager is walking into a minefield and will have to tread very carefully.
This will be the most scrutinized off-season in Boston in recent memory. There's a lot of damage that has to be repaired, and Cherington will be the head repairman. I wish him all the luck in the world.
Yesterday was a good start.