I haven't written much about the Red Sox this year, as the return of my Trivia Night has taken up much of my time on the blog. But with the Winter Meetings now in full swing, it's time to catch up on a few things.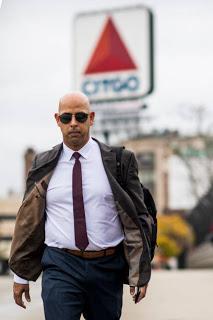 Alex Cora replaces John Farrell as Red Sox manager for 2018. It seems to be a widely popular move, especially with the Red Sox going out in the first round of the playoffs for the second straight year. Farrell can be proud of what he accomplished in Boston, winning a World Series in 2013 and three division titles. As time goes on, he will be more appreciated for what he did in Boston, being just the second manager in recent times to lead the Red Sox to the Promised Land. But it was clear the Sox needed a change, and a new voice in the manager's office.
Cora played for the Red Sox from 2005-2008, mostly as a utility infielder. I remember Peter Gammons calling Cora the smartest player in baseball, and that he would be an MLB manager one day. He comes to the job with very little managerial experience, having just managed in the Puerto Rican Winter League, and was the bench coach for last year's World Series champions in Houston. Of course, turning the keys of the kingdom over to someone who hasn't managed in the majors before is a risk, but there are recent examples of men who have succeeded with no managerial experience anywhere (Dave Roberts and Mike Matheny come to mind). Cora knows what fishbowl he's walking into, and left a great impression on everyone at his press conference.
More changes are coming to Boston, that's for sure. NL MVP Giancarlo Stanton was just traded to New York this past weekend, and by checking with some on social media, the Red Sox shouldn't even bother playing next season, and the Yankees should be awarded the 2018 World Series trophy right now. Calm down folks.
I remember back in 2004 when Alex Rodriguez was traded to New York, and I saw a similar reaction. I wrote one simple line on email to my friends who were worried about this: "Alex Rodriguez can't pitch." And now I substitute Stanton's name in that sentence. I'd be more worried if New York had acquired a 20-game winner like Corey Kluber, because as we all know, pitching (and defense) win teams championships. And I am glad the Sox didn't bring in Stanton, as the Sox have had way to many odious contracts over recent years, and Stanton's maybe the worst. He's still owed $295 million for ten years. And given Stanton's injury history (he's only played 150 games once in his career and that was last year). I really thought he'd stay in the NL, but once he turned down the offer from the Giants and Cardinals, and Dodgers passed on him, the Yankees were really the only team who could take his contract.
And to those "worried" about the new combo of Stanton and Aaron Judge playing for New York, Peter Abraham posted this stat on Twitter this past weekend: Stanton and Judge combined lifetime against Red Sox pitchers currently on their roster are 17-for-93 with one home run and 37 strikeouts.
Now, the ball is in Dave Dombrowski's court.
So what does he do? J.D. Martinez is the most attractive free agent out there, and his numbers are even better than Stanton's over the past three years. But he has Scott Boras as an agent, and you know the price for the Red Sox will be very high. The Sox also have a crowded outfield, so does Martinez DH, and if he does, what happens with Hanley Ramirez? If he gets 497 plate appearances, his option for 2019 automatically kicks in.
I'm not sure what DD will do, but he has a history of making big trades that no one saw coming, and the pressure is squarely on him with New York making such a big splash this past weekend. And you can just bet if the Winter Meetings pass with no big deals happening, social media will scream bloody murder for DD to do SOMETHING.
Dombrowski has plenty of time, as Spring Training doesn't begin for over two months from now. He should make the right moves, not those to please the fans. I offer no suggestions, as I'll just sit back and see what the Red Sox do. A new man's in charge, and the rivalry with the behemoths to the south is sure to be ramped up in 2018.
Stay tuned folks, it should be quite a ride.