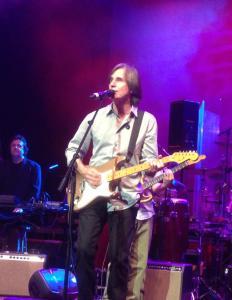 Jackson Browne helped launch the annual Artists for The Arts concert in Santa Monica 10 years ago, and a decade later he's still volunteering his time to support arts education.
Last month I attended a Jackson Browne concert in Santa Monica. As great as Jackson Browne is, that may not sound remarkable on its face, even when I add that another 1970s icon, Gary Wright, was also on the bill, and the "house band," Venice, is a highly accomplished group with numerous albums and world tours to their credit.
No, what made this evening an indelible memory for the packed house who saw the show was the fact that these stars shared the stage with high school students, and those students delivered some knockout performances on par with any pro.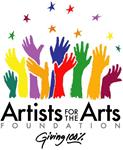 The Artists for The Arts Foundation produces concerts featuring recording artists performing with local student musicians, and 100% of ticket sales go directly to fund arts education programs.
This was the 10th Annual Artists for the Arts concert at Santa Monica High School's historic Barnard Hall. The concert is a fundraiser benefiting arts in public schools in the Santa Monica-Malibu Unified School District, and as has been the case every year the show has been held, the audience was treated to some classic songs from the original artists, like "Dreamweaver" and "Love Is Alive" from Wright along with Rock & Roll Hall of Fame inductee Browne's vast catalog of hits. The artists donate their time to appear at this event (past volunteers have included the likes of Billy Idol, Pat Benatar, David Crosby, and many others), and they work with students and faculty to select a playlist that highlights the student performers, which include both solos and groups of student vocalists and instrumentalists accompanying Venice and the headliners.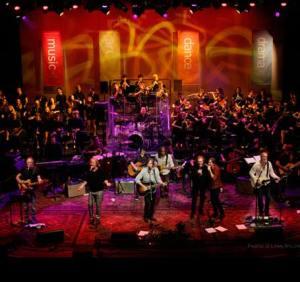 Student strings, horns, vocals, and more backed the headliners – and stole the show.
In fact, the "it" moment of the night wasn't even a Browne or Wright song, as great as they were to hear live. It was a haunting version of "Falling Slowly" performed as a duet between an amazing young female student vocalist and Mark Lennon of Venice. That song brought just one of many standing ovations on the night, but it elicited far and away the most emotional response, and it was the song people were talking most about afterward.
"I was lucky to sing with HER, not the other way around," Lennon told me after the show, visibly excited. "I wish everyone in the world could see this…then people would know the magic that happens with these kids."
And that's the point. This show is more than just a (very successful) fundraising event. It's a showcase for what the arts mean in public schools. It's a chance for members of the community to see young people performing alongside legends like Jackson Browne in an intimate environment, and it's a rare opportunity for talented young performers to not only realize their dreams but to gain invaluable experience and mentoring from professionals as the show is staged.
Just as importantly, it's not just the student performers who gain experience. Everything about this show has students' hands on it, from the artwork for the concert poster to the staging and lighting and sound. High school students work both independently and alongside professionals on every aspect of this concert, giving them firsthand experience you can't get without doing just that.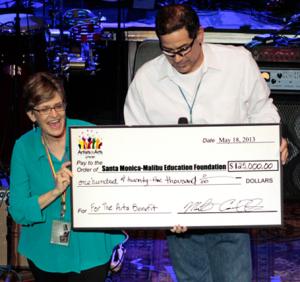 The Artists for the Arts concerts generated more than $125,000 for arts in Santa Monica-Malibu public schools this year.
With the tremendous cuts to arts and other extracurricular programs in recent years as California wrestled with an unprecedented fiscal crisis, philanthropic support is more important than ever if the arts are to survive in our schools. Although the state's economy is gradually improving, and the passage of Proposition 30 last fall staved off further budget cuts, the decimation of funding in preceding years won't be replaced from public sources anytime soon. One place those cuts have been felt most significantly is in extracurricular programs.
Over the past decade, Browne, Venice, and the Artists for the Arts Foundation have worked with the Santa Monica-Malibu Education Foundation to raise funds to ensure arts programs remain in public schools in the District. While their work has raised hundreds of thousands of dollars, it hasn't protected the District from cuts. That's why this annual concert series has been so important…it not only raises funds, it illustrates the very reason why those funds are so important.
"Arts in high school are really important. Arts make the individual complete. Arts connect us to the rest of society. They give us a chance to express ourselves and to channel our emotions…and to have a healthy emotional life you have to have an outlet for that. And arts, like sports, are really important for people who are developing." – Jackson Browne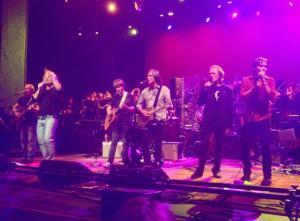 Jackson Browne, Gary Wright, and members of Venice perform "With A Little Help from My Friends," accompanied by students from Santa Monica, Malibu and Olympic High Schools.
The sight of dozens of student singers and musicians joining Browne, Wright, and the members of Venice in a rousing rendition of the Beatles' classic "With A Little Help from My Friends" toward the end of the concert was memorable indeed, and such a fitting song choice, because that's what it takes to ensure all students have opportunities to discover and explore their passions in school.  It takes a little help from friends – donors who see the importance of investing to provide arts education in our schools.
For more information, see the following:
Tenth annual Artists for the Arts concerts raise more than $125,000 for SMMUSD school arts programs
Artists for The Arts Foundation