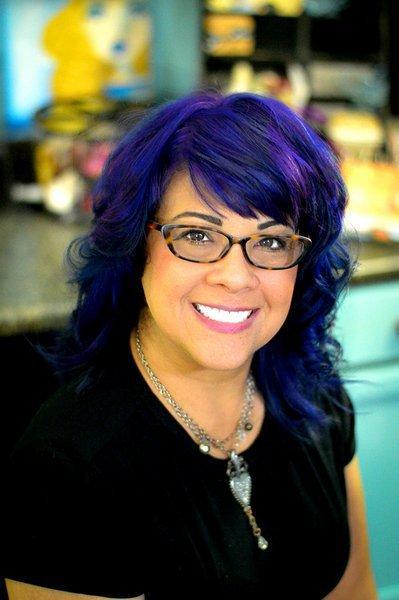 My Artist Crush for March is one special lady. Rita Barakat and I have been friends for a few years now. I was fortunate enough to meet her through a few years back through this wonderful industry (Craft & Hobby Association). I've watched this lady overcome a lot of life challenges that many would think are obstacles and yet she continues to smile and work hard to make her dreams come true, all the while being a fabulous mom and friend as well as a creatively amazing artist. I hope you enjoy this chance to get to know my friend, Rita a little better through this interview. Make sure you visit her website to learn more and you can catch her with weekly episodes on Periscope at Rita's Periscope TV.
How would you describe yourself or your art?
My art is whimsical. fun and uplifting! I love color, painting, mixed media, watercolor, pencils - it's all good!

Are you a full time artist? If not, what is your 'other' profession?
Yes and a full time mom to five children, two are grown, three are under 13. I am also the worship leader at our church. (Yes I sing.)
What is your favorite medium?
Oh that is a hard question - I love them all! (hello mixed media!)
Is there a medium you desire to learn more about?
Encaustic but I hear it's addicting!

What inspires your art?
Everything, it could be something someone said, or something I or a friend is going through. Music is huge inspiration, so is color and pattern.
Do you have professional training as an artist or self taught?
One of the things my mom always had for us as kids was art supplies. TONS of art supplies and I was always drawn to them, coloring something, drawing, painting etc. As a single mom with three kids we were raised in apartments - never able to paint the walls or put anything up. When I got married I painted all the walls in our first house, when we had our first child I painted a mural of the little mermaid (her first Disney movie) half of the room underwater and half out. That was it, word of mouth got out and a business was formed. I have been painting ever since!
Do you sell your work?
What venues do you use to sell your work?
Etsy and my blog - I get requests through emails and make arrangements. Also at shows (see below).
Do you exhibit your work outside of your website or blog?
At CHA and other trade shows. This year I will be at GASC in Dallas, CKC in Houston and CKC in Tulsa. As well as Sparks Studio in Arlington TX.

Tell me about your studio set-up:
I love my studio, it was actually built to be a media room. Hubby put in the cabinets and he's pretty good about finding pieces that people are getting rid of. I take them in, clean them up and paint them to match the rest of my room! Here's a video tour

What is the one thing in your art arsenal that you can't do without?
Gesso and paint -I can't pick just one!
Please explain your creative process?
It's always different. Sometimes I just do a lot of drawing then I go back later and do the painting. Sometimes I go from start to finish on one project. I usually put it up on the counter so I can see it for a couple of days to make sure I am good with it and I may or may not go back and add or change something. Sometimes taking a picture helps, it may look a little different in a picture and I see something I didn't see before and then fix or adjust it.
Expand on the concept of how you are Living the Art Life™
Art is a way of life - it's something I do everyday. It's a way to relax and work through feelings. If you are having a bad day find a great quote that says the opposite and include it in great project. Everything will come together and you feel better after you are done. Also I always have a notebook or sketchpad with me. I take a picture if I see something that inspires me, take notes or make a quick sketch.
What is your greatest joy in your art life?
My studio is on my house so it's really nice that I can go there even if I don't have a lot of time. Also it's big enough that the kids come in and do their homework while I work. They are alway watching and they create things themselves! It's so important to teach and expose art skills to the next generation!

What is your greatest struggle in your art life?
Not enough time in the day! Life is crazy busy and I can't be in the studio all the time! (whhhatt??I know right?) I also find the business and social media take a lot of time away from being creative!
What other things would you like to share with our readers about Living The Art Life™
A few years ago I was in an elevator with two women who were carrying on about mixed media and how one of the ladies had a friend with a gallery who would NEVER allow mixed media into her gallery. I was a little shocked and didn't say a word. If I were to hear that conversation today I would remind them of so many artists that weren't recognized in their own time, like Monet & Van Gogh.
Don't worry if you think your art is not fantastic, keep at it, even if it's just for you! Life is hard - go create something!

Thank you, Rita!
I love reading about other artist's creative process, and I LOVE the peeks in their studios. Good reminder that I need to do a video sharing mine too. These artists inspire me in some way every day. Have I told you that I love my job?
Let me know of any artist you would like to learn more about. You can leave a comment right below.