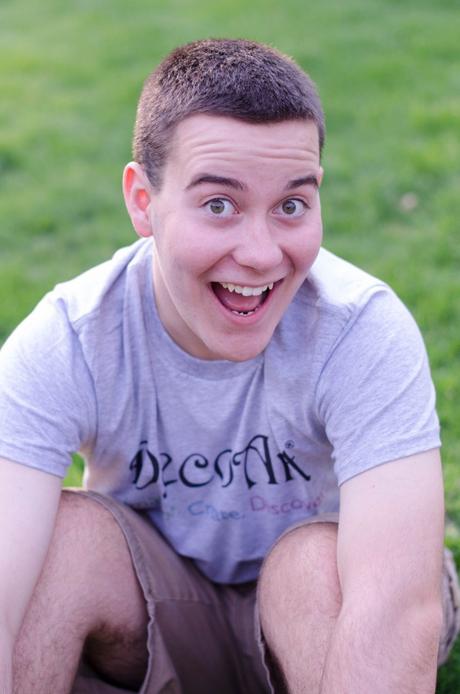 My Artist Crush for June 2016 is Tanner Bell also known as Tanner Bob Bell in the Craft & Hobby Industry. This young man has been an inspiration to so many. Tanner found his niche and has now created a six-figure income with his business. Tanner currently specializes in reaching generation Z with arts and crafts and works with many well-known brands.
I am crushing on Tanner because he is such a go-getter. I am inspired by the fact that Tanner sets his goals and then TAKES ACTION to achieve them. Tanner doesn't only set goals at the beginning of his year, Tanner creates his goals on a regular bases. He sets goals yearly, quarterly, weekly, and even daily. Every day, Tanner decides what he plans to accomplish that day and then takes the action steps needed to achieve these. For someone so young, I think this is something we can all crush on.
I met Tanner and his mom at their very first CHA convention and have watched his career take off from there. I had the privilege to spend a little time and have dinner with him on my last trip while in Tennessee. I was glad I was able to give Tanner a little advice and encouragement for some of his new goals. However, I found it daunting to realize I was sitting there also taking advice from a 17 year-old, and boy was I paying attention. I've learned that we all have our own skill sets and we can all learn from one another. While he gave me some great ideas, the biggest thing I know from watching Tanner is that all the best ideas will do me no good if I don't PUT THESE IN ACTION!
So, while I get busy working, let me introduce you to Tanner.
Artist Crush Interview with Tanner Bell
How would you describe yourself or your art?
Are you a full time artist? If not, what is your 'other' profession?
Yes! I get to create daily. I love it and very blessed to get to do this at such a young age.
What is your favorite medium?
I love any type of decoupage! I seriously can never get enough of it.
Is there a medium you desire to learn more about?
I would love to learn more about ceramics.

What inspires your art?
SUNSHINE! I feel 10x's more creative when I'm able to see and feel the sunshine.
Do you have professional training as an artist or self taught?
I am self taught. I try to create projects that anyone would be able to create.
Do you sell your work?
No, the goal with my projects are 100% to encourage others to get out and bring "A Little Craft" to their day.
Do you exhibit your work outside of your website or blog?
Tell me about your studio set-up:
This past July we moved our studio office into a 1,700 hundred square foot home to create and work out of daily. UPDATE: This July, we will be moving into new studio space in downtown Morristown, Tennessee!
What is the one thing in your art arsenal that you can't do without?
My paint brushes! I have a set of special paint brushes that I adore.
Please explain your creative process?
We take a holiday, theme, or concept, brainstorm different ways to corporate a DIY into it, create a supply list, grab supplies, and get to shooting the project. We sometimes create a test project, but mostly go with it.
Expand on the concept of how you are Living the Art Life™:
Art has been the base of my life for over 6 years and that is saying a lot since I'm only 17. 🙂 I started creating when I was in 5th grade as a creative outlet and a way to create conversation online. Since that, we've been able to turn it into a full business. I work with a team of creative individuals that believe in inspiring others to create.

What is your greatest joy in your art life?
I love working with brands I admire, creating content that utilize specific products. I love having challenges in my business.
What is your greatest struggle in your art life?
This may sound funny, but staging my projects after I create them!
I think Tanner's best advice for all of us is to Set you Goals and then Take Action in order for them to be accomplished. Keep an eye on Tanner, I think we'll be seeing even more from him.
I hope you enjoyed this interview with Tanner. I am excited to see where he goes with his business and what he will develop next.
Leave me a comment below and let me know who else might you want to learn more about? Who is your Artist Crush?