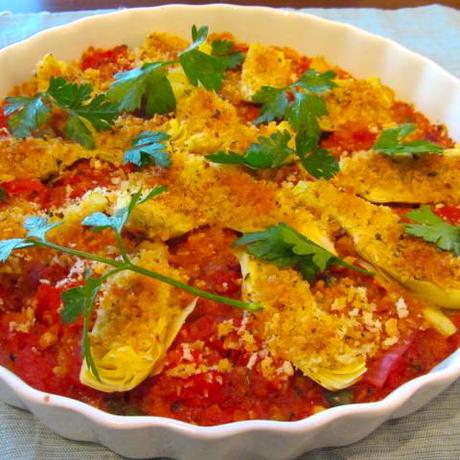 Living in DC means there's always something going on, always some political controversy, or scandal, or top story. While this can be exciting, it also can become pretty draining. And during this past month, DC has been on over-drive–Navy Yard, the Nairobi hostage crisis (I know, not in DC but still hit very close to home given my work), the crazy car chase from the White House to the US Capitol, and oh, of course, the freaking shutdown. Yes, DC is definitely on over-drive right now. And along with the dramatic drop in temperature and cloudy skies in the forecast for the next five days, all I want is comfort food.
Food that feels like a big ole blanket is wrapped around me. Food that makes me feel warm inside. Food that makes me smile. Enter this recipe, my Artichoke Provencal. Super simple, clean flavors, and not hard on the eyes either, I paired this bake with some whole wheat couscous cooked in coconut milk and vegetable broth. It was so simple, bordering on elegant, and 100% comforting (particularly paired with a glass of pinot noir

). Just what I needed to escape… if just for a moment… from this crazy, crazy DC drama.
Artichoke Provencal
Ingredients:
1 14 oz. can artichoke hearts packed in water–drained and rinsed
1 14 oz. can diced tomatoes (no salt/sugar added)
2-3 tablespoons capers
1/4 red onion–thinly sliced
2-3 cloves garlic–minced
1/4 cup Italian flavored panko bread crumbs
pinch sugar
pinch dried basil
olive oil
salt
pepper
fresh herbs
Method:
*Preheat oven to 400 degrees F. Heat 2 tablespoons olive oil in medium sauce pan over medium heat. Add the onion and sauté for 5 minutes. Add garlic, pinch salt and pepper. Saute for 2 minutes. Add tomatoes and capers and pinch sugar. Cook 5 minutes, stirring occasionally. Add tomato mixture to a shallow baking dish.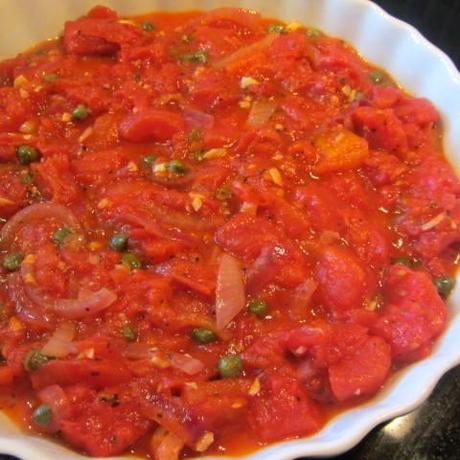 *Arrange artichoke hearts on top. Sprinkle with panko bread crumbs. Drizzle with 1 tablespoon olive oil. Bake ~10 minutes. Serve on pasta, couscous, or other preferred grain with fresh herbs. Enjoy!