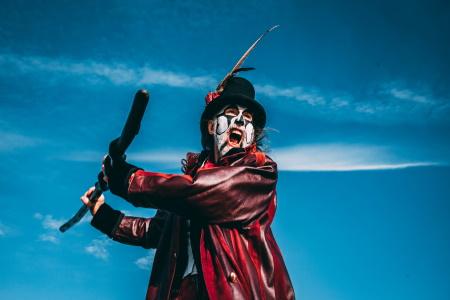 photo: Harvey Waller
English musician Arthur Brown will forever be associtated wiht the classic Fire as the frontman of The Crazy World Of Arthur Brown, but he still raging and making racous music. He announced a short tour in on tour in Germany & Italy to promote his latest album Long Long Road: "[It]" has all the trappings of his past, mixing the blues and psychedelic rock with plenty of references to misfortune, seduction, femmes fatales and mind expanding tidbits. His voice not quite reaching the banshee heights of yesteryear, but the power is still there. The title track is both a summation of his career and a window to his future. The self-proclaimed God of Hell Fire stills burns bright, especially in two parts of the bittersweet Once I Had Illusions. He will keep creating until his dying breath, but ailments are slowing him down, which both worries him and pisses him off. Fingers crossed that this not his last hurrah, but if it is, it sure is a damn fine one."
Live dates:
12/01 Jena, Germany @ KuBa
12/03 Rüsselsheim, Germany @ Das Rind
12/04 München, Germany @ Rote Sonne
12/07 Bologna, Italy @ Freakout Club
12/08 Roma, Italy @ Init
12/09 Torino, Italy @ tbc
HCTF review of Long Long Road.