HOLLYWOOD—The champagne has been sipped and the Oscars are officially over. The 84th Academy Awards that took place in Hollywood on February 26 was full of white and gold gowns on the red carpet. Millions of fans were gazing at Jennifer Lopez's plunging neckline, perhaps to take a double take, thinking this could be a wardrobe malfunction. Immediately it was on Twitter to debate whether or not she had flashed the viewers. It was one of the most talked about highlights of the evening. When Lopez walked on stage with Cameron Diaz to present awards for Best Costume Design and Best Makeup, the two were a vision, dressed to kill as they strutted, Diaz with her Gucci gown and Lopez with her Zuhair Murad gown.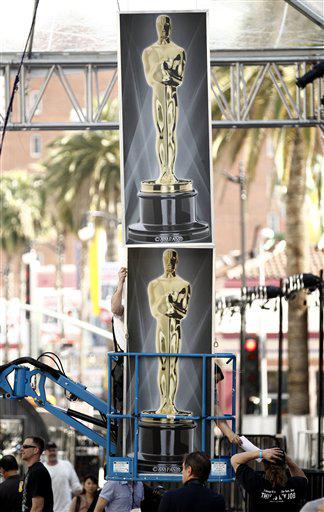 Best Supporting actress Octavia Spencer wore a white sparkler by Tadashi Shoji. Another vision in white was 20-year-old Shailene Woodley, who co-starred with George Clooney in "The Descendents," and wore a Valentino Couture gown. Best actress nominee Rooney Mara wore a white sculpted gown by Givenchy Couture.
Another fashion color of the night was gold seen on nominee Jessica Chastain who wore an Alexander McQueen dramatic, strapless gown with gold bullion and metal embroidery. Trying to go for the gold statuette look was George Clooney's date, professional wrestler Stacy Keibler, who dressed in a gold lame Marchesa gown.
Many celebrities decided to venture out of the fashion pack. Angelina Jolie as usual was a stunner in a heart-stopping black Versace with a high-right slit. Sandra Bullock looked classy in her black and white Marchesa gown. Natalie Portman wore a vintage red Dior gown and Best Actress nominee Michele Williams looked stunning in a red/coral strapless Louis Vuitton gown. Best actress nominee Viola Davis wore a vivid green Vera Wang gown. Melissa McCarthy, whose performance in "Bridesmaids" was impressive, wore a Marina Rinaldi gown.
History repeated itself: since the very first time since 1928, the Academy of Motion Picture Arts and Sciences gave the best picture trophy to a non-speaking and charming film, "The Artist." The awards show reached an estimated 39.3 million TV viewers, according to reports, though failed to attract the younger demographics. 

So why didn't it attract younger viewers? Well, with all due respect to Billy Crystal, his jokes were kind of dying and a bit flat, nothing that rocked your socks off. One thing I noticed was that in comparison to disasters of Oscars past, there were no endless speeches that thanked everyone from the director to the first-grade school teacher. The speech that grabbed my attention was the heartfelt emotional speech by Oscar-winner Octavia Spencer, of "The Help." 

The theme of this year's Oscars, was the magic of cinema. That's why the Cirque du Soleil was doing aerial tricks during the montage. I just didn't get the point of showing actors talking about their childhood movie memories. Can someone explain? Obviously, the stars love movies which is why they chose to make them. I would have enjoyed listening to some emotional speeches; however, that only happened with Spencer's speech. Perhaps next year, it will appeal to the younger demographics and the ratings will go up.
After the celebrities made their presence at the Governors Ball, they drifted off to the 20th Annual Elton John AIDS Foundation Academy Awards viewing party, which was usually frequented by the late Elizabeth Taylor. Some of the A-list crowd went to the Vanity Fair Oscar Party, while others partied at Guy Oseary's Coldwater Canyon mansion.
Rose's Scoop: According to TMZ, "No Way Out" star Sean Young found herself in trouble with police after allegedly slapping a security guard when she failed to produce a ticket to the Governors Ball.