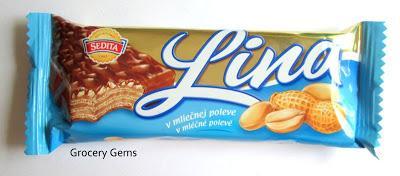 The lovely @Banjo_Chocolate has once again sent me a fab parcel filled with some great finds. This Lina milk chocolate and peanut wafer is a Slovakian import, adding another new country to my Around the World challenge. It's made by traditional biscuit and wafer brand Sedita who have a long history in Slovakia and the Czech Republic.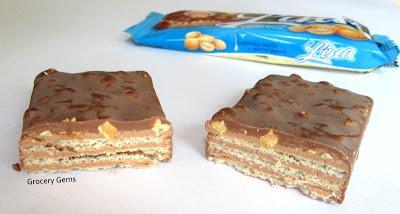 There are quite a few different varieties of these Sedita Lina wafers, such as dark chocolate & peanut, hazelnut, and this milk chocolate and peanut. It's a simple wafer bar but a very tasty one! The inner wafer has a lovely crunchy texture and is layered with a milk chocolate flavoured cream. There is a generous sprinkling of chopped peanuts on top of the first wafer layer, which gives an added crunch and nutty flavor to the sweet milk chocolate.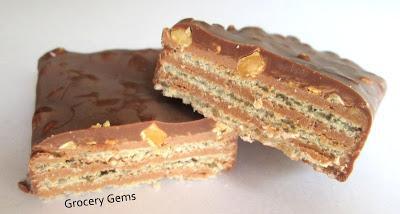 Thank you so much to @Banjo_Chocolate, for sending me this delicious wafer, and the other bars too (reviews coming soon!). Please support the campaign to get the much missed Banjo Chocolate bar back in production - especially by signing the quick petition here. All the support is greatly appreciated! Further details about the campaign are on the Bring Back Banjo Chocolate Bar Facebook page.
Grocery Gems Verdict: Sedita Lina Milk Chocolate & Peanut Wafer
RATING: 7 out of 10.
Buy them again?: I'd try some of their other flavours. 
Purchased

:

 Check out your local Polish or East European grocery shops.