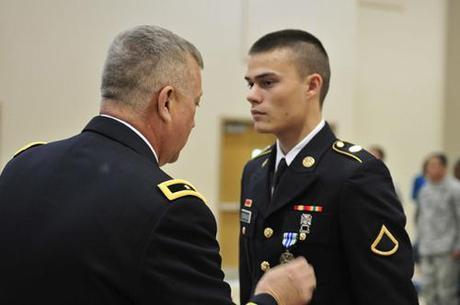 US Army: Victims and bystanders recall the initial panic during the mass stabbing that occurred in the halls of a Pennsylvania high school on the morning of April 9.
Nearly two dozen students and staff members at Franklin Regional Senior High were injured during the attack and ensuing mayhem, when a pulled fire alarm sent masses of students fleeing from their classrooms.
Not everyone ran for safety.
"There are a number of heroes in this day," said Pennsylvania Gov. Tom Corbett in an evening news conference following the incident. "Many of them are students: students who stayed with their friends and didn't leave their friends."Among those who stayed behind to care for fellow classmates was Pfc. Zachary Fleischauer, an Army Reserve Soldier with Coraopolis-based 316th Sustainment Command (Expeditionary).
"I saw a teacher with a student yelling for help," said Fleischauer, "I grabbed some medical supplies from my classmate, Alex Pasculle. He asked if I knew what to do and I said yes, I had training in the Army."
"Zachary Fleischauer was a strong, calm and reassuring young man at a time when those qualities were most needed," said Beth Frydrych, a health services coordinator.
"I was just doing what I thought I should do to help, I didn't like seeing my friends in pain," said Pfc. Fleischauer of the 316th Sustainment Command (Expeditionary) in Coraopolis, Pa.
"I knew that I could tend to other students in the area and that Zachary was a young man I could count on," said Frydrych.
Amy von Geis, a learning support aide, had pulled an injured student outdoors while waiting for police and paramedics.
"As I waited for help to arrive Zack came over to me, identified himself as having first responder training, and asked me if he could help. He ran towards the school and shortly came back with a trauma bandage and some tape."
The two worked quickly to place the bandage so Geis could continue to apply pressure to the wound.
"I'm glad I joined the Army when I did, without my training I may have froze," said Fleischauer, who was trained in both first aid and buddy care. "The Army taught me enough to know what to do, with that knowledge I was able to react."
In an interview with the Pittsburgh Post-Gazette, the Franklin Regional High School senior downplayed his role. "I'm just a Soldier doing what I was taught to do and doing my duty and serving," said Fleischauer.
Fleischauer was awarded the Army Achievement Medal by Brig. Gen. Bud R. Jameson, during a ceremony at the 316th ESC Headquarters, on May 18. I am really proud to have him as a Soldier in the 316th and wish him well in the rest of his Army career, Jameson said.
The following day, Fleischauer was recognized during a Franklin Regional School Board meeting honoring students entering the military.
At the ceremony Fleischauer spoke about the award and the attention saying, "I'm just happy to be here today surrounded by my friends and classmates," adding, "I am proud of what I did and what this medal means."
Hooah! DCG