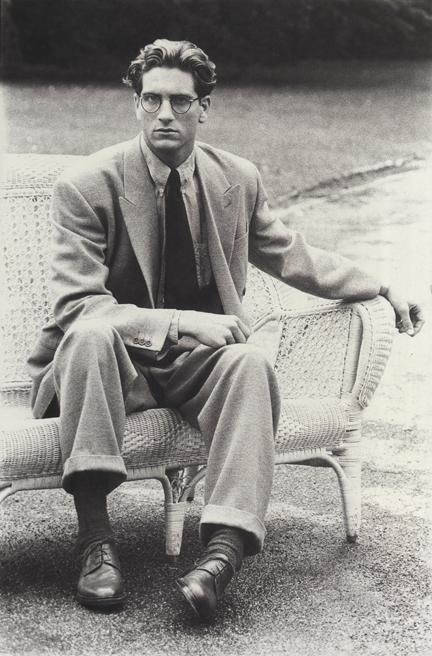 StyleForum member Working Stiff recently started a thread titled "Armani Was Awesome." And it's true; Armani was awesome. Although his work is closely associated with power suits in the '80s, much of his style – as Parker notes – was more "slouchy" than "powerful." In fact, his real contribution is in making softly tailored constructions popular in that decade. By knocking the stuffing out of suits (e.g. eliminating or reducing the interfacings, linings, and shoulder pads), Armani was able to achieve a very relaxed and softly tailored silhouette. The "power" part really comes from the extended shoulder line. For the rest, Armani elongated and narrowed the lapel, and lowered the buttoning point just a touch, in order to create a loose, devil-may-care playboy look that was eventually made famous by Richard Gere in American Gigolo (who wore Armani for his role).
Here are some images to illustrate that well. There are photos of Jean-Michel Basquiat, who famously painted in expensive Armani suits and would often appear in public in the same paint-splattered clothes. Then there are some old advertisements, including a number with photos shot by Aldo Fallai (the Armani-Fallai partnership being a famous one in fashion advertising history). I've also included some some screenshots from American Gigolo, which I stole from Clothes on Film. 
There's so much that I like here. There's the obvious legacy picked up today by modern designers such as Damir Doma and Yohji Yamamoto. There's also the earthy color palette (when color is shown). Most of all, I like how the advertisements are composed. With few props and little background imagery, the burden of telling a narrative is left to just the clothes – their textures, fabrics, and silhouettes. Compare that to Cucinelli ads (which often feature fantastic landscapes) or Ralph Lauren Purple Label (which often show fancy cars), and you can see how pared down these ads feel. They're just about the clothes, and the clothes were awesome.