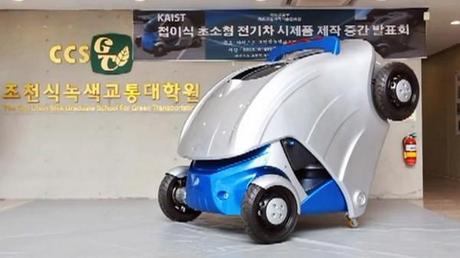 If you've ever had a problem finding a parking spot for your four-wheeler, you may consider getting one of these tiny Armadillo cars that can be folded in half to fit into a smaller parking space.
According to Wall Street Journal, the vehicle developed by the Korea Advanced Institute of Science and Technology has been given the name of the animal because the car basically looks like an armadillo after it's rolled up (at least that's what they think).  It only takes a simple touch on a smartphone to initiate the folding process. And when folded the size of the car is only 1.65 meters, which is about half of it's full 2.8 meter length. The tiny car can also hit a top speed of at 60 km/h.
"I expect that people living in cities will eventually shift their preferences from bulky, petro-engine cars to smaller and lighter electric cars. Armadillo-T can be one of the alternatives city drivers can opt for," project lead Professor Suh In-Soo told the press.
As cool as it may looks, don't expect to drive one of these anytime soon becuase the research team estimates it would take over 5 years to bring this into production. So, in the mean time check out the video for a closer look at the Armadillo-T car.


(All the images, trademarks, logo's shown on this post are the property of their respective owners)
Roshan Jerad Perera